If you are in a hurry and need a quick Typedesk Review, here are the key points.
Typedesk Review: 📋
Typedesk is a canned response solution that lets your team quickly create, organize, and send unique messages.

Awesome UI/UX, Time-saver, Increases productivity, Web app, and browser extensions

No mobile app (but it's there on their roadmap)

$ 138 for two codes (Lifetime Deal)

The double code plan has unlimited seats. So no limits.

It's one of the best solutions to design, organize and quickly use canned responses.
Now let's get started with the In-depth Typedesk Review.
What is Typedesk?
Typedesk is a solution for your team to design, organize and quickly use canned responses everywhere you work.
It offers a powerful canned response editor with formatting, variables, reusable snippets, etc., allowing you to create dynamic templates that adapt every time you use them.
It helps in improving customer service and is a real timesaver.
Use Cases
Below are some example use cases of Typedesk.
If you are a customer support team, you need to write the same answer multiple times. In this case, you can use Typedesk to manage communication with your customers. Any of your team members can copy-paste the templates, and it automatically fills out the variables' fields.
If you're an agency, you can use Typedesk to communicate with your clients.
If you're a freelancer, and you do approach your potential clients via cold email. You can use Typedesk for email templates; this will save a lot of time. You don't need to write the same email over and over again.
Suppose you're a social media manager and receive many messages on social media platforms you have to reply to. In that case, you can use Typedesk to send the same message again and again.
Pros
The user interface is neat and eye-appealing
The process to set up your account via app or browser extension is quick and easy to setup
Team friendly
Typedesk is economical as compared to other solutions for canned responses
It is a real-time-saver and boosts our productivity
Typedesk allows you to work even when you're offline
Offer live chat support
Unlimited canned responses
They sync your data on the cloud so that you can access it anytime
The google-like search feature allows finding canned responses in a few keystrokes
Advanced variables ensure responses are customized in each reply
Contains gifs and images, as well as a link to canned responses
Privacy notes and notifications
Cons
Don't have a mobile app (but it's on their roadmap)
Pricing depends on the users. It would be great if they could offer a fixed price
There is no feature to add sub-folders for easier organization of templates
USP
Here are the Unique Selling Points of Typedesk:
It's the only canned response app that works on any computer. Typedesk offers native apps for Windows and Mac, browser extensions for Chrome and Firefox, and a web app that works in all major browsers.
It saves your data online so that you can keep access to your canned responses on any computer.
It makes sharing and working in teams a breeze, with notifications & shared folders.
It offers advanced features, like variables and conditionals.
It has a powerful search bar to find your canned responses easily.
It's user-friendly: forget computer-oriented programs, Typedesk is modern and intuitive!
It's keyboard-friendly, making it the fastest canned response app to use!
Reviews
Companies like HelpScout, APPSUMO, Salesforce, LivingPackets, Scratch, and Trustly use Typedesk to manage their communication with customers.
Below are Typedesk Reviews from people who use it. Check out what others are saying about Typedesk.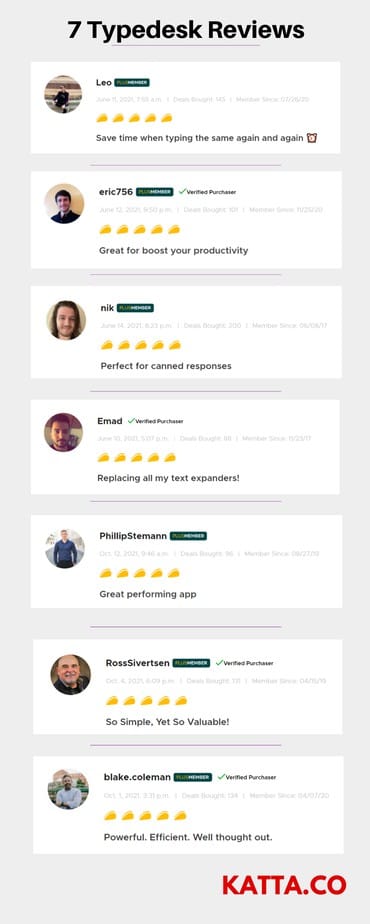 About the Company
UI & UX
Neat and clean User Interface
Easy to setup
Easy to use: Web Version, Web App, and Chrome Extension
Don't have a learning curve
How It Works Guide
Have a blog to help on important topics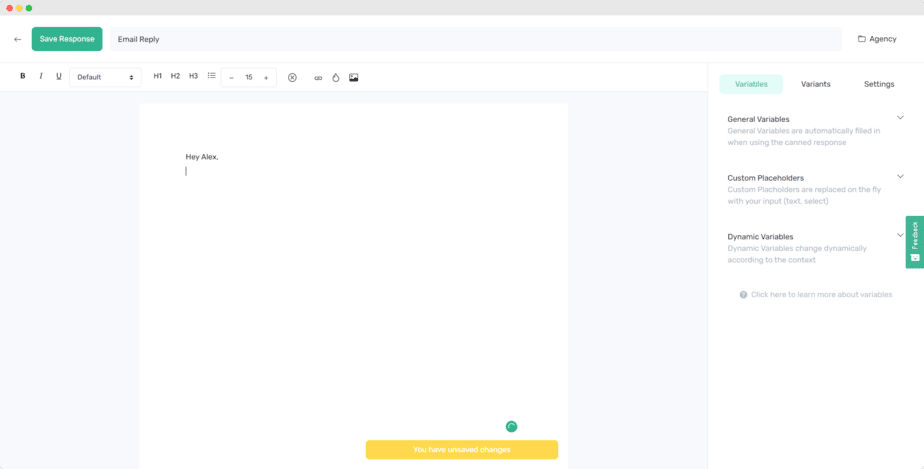 Features
Here are the features that you get with Typedesk.
Save Templates: You can save repetitive messages and responses as a template so you can save time typing the same thing again and again.
Offline-Proof: Keep working even when you're offline or on the go. Typedesk works even without internet connectivity.
Saves Your data: Easily access your canned responses on any computer. Your answers are constantly backed up and in sync.
Keyboard-First: Reach maximum productivity, thanks to first-class keyboard support to find all your canned responses without using the mouse.
Team Feature: It's collaborative, with built-in teams so you can decide exactly which canned responses you want to share and with whom.
Web Apps and Browsers: It comes with a web app and browser extensions, making it easy to access canned responses.
Integrations: It is a multi-channel platform for canned responses and is compatible with Gmail, Slack, Zendesk, Outlook, MS Office, Google Docs, and a lot more.
Live Search: It comes with a live search feature so you can sort out and find that specific message you're looking for. You can search locally, so poor internet connectivity can't affect your productivity.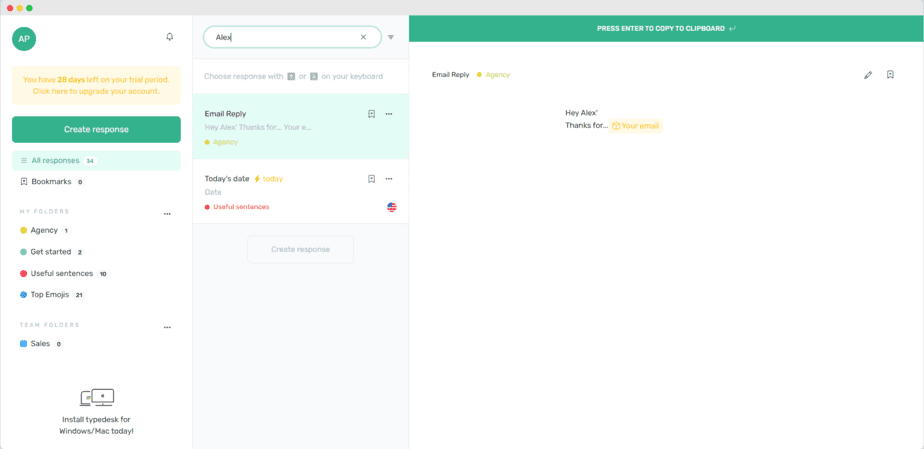 Notifications: Keep track of any changes to your canned responses with notifications and advanced sharing permissions.
Snippets: It can also insert dynamic snippets into your canned responses like date, time, and other specifics that pertain to your products or services.
Rich Formatting: Rich canned responses are created by inserting links, GIFs, Fonts, and formatting like colors.
Variants and Translations: Easily create several versions of the same response. Translations and variations of the same message are made.
Variables: Variables are the best way of ensuring that all the placeholders are filled in the response.
Folders: Folders organize the canned responses into colored folders, which makes sharing easy.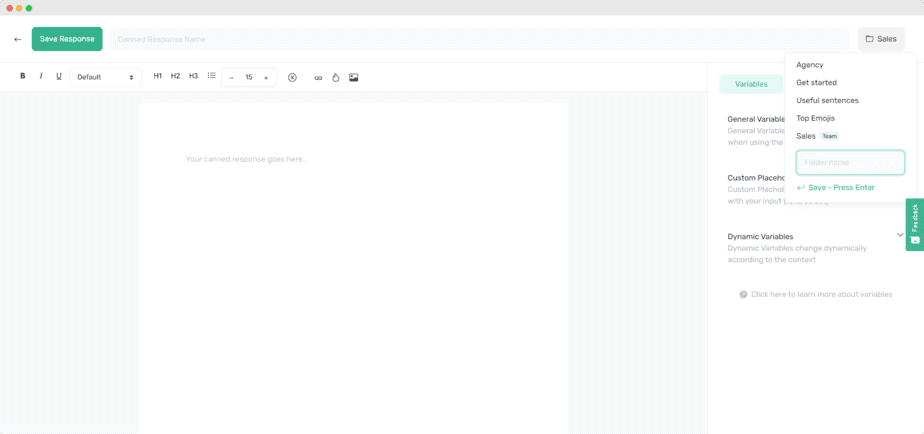 Private notes: Private notes give instructions to the team as to when and how to use the canned responses.
Clipboard: Contents of the clipboard are inserted in the canned responses.
Gender and Time Conditional: Insert different sentences based on the gender of the recipient and have personalized greetings depending on the time of the day.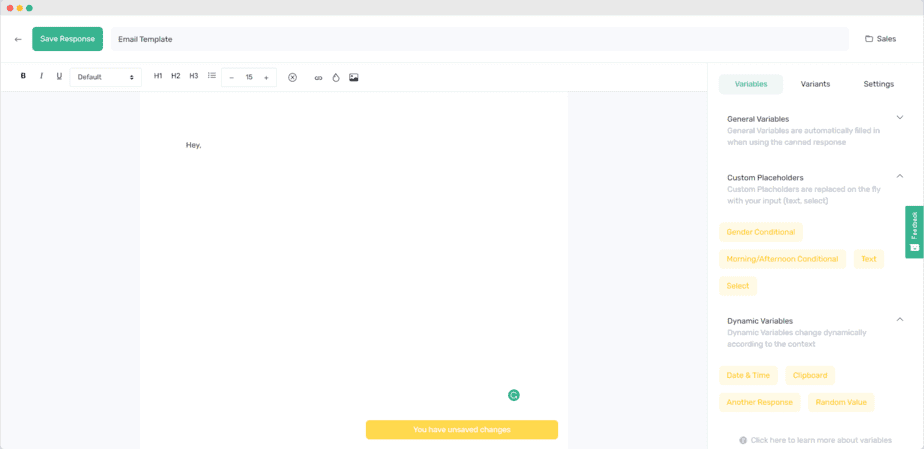 Privacy: Unlike all other text expanders, Typedesk does not record your keyboard unless requested, making it the best-in-class for confidentiality.
Integrations
Below is a list of Typedesk Integrations.
With the help of Typedesk, we can create canned responses for:
Gmail
Outlook
Zendesk
Twitter
LinkedIn
Facebook
HelpCrunch
Front
Slack
Microsoft Teams
FB Messenger
HubSpot
Apples Mail
Support
Typedesk offers:
Live Chat Support &
Email Support: hello@typedesk.com
They are also present on Facebook, LinkedIn, and Instagram. But, their customer support is not very quick. They took days to respond to my queries.
They don't have any Facebook group, and their LinkedIn presence is almost dead.
Roadmap
Here is the Typedesk roadmap if you wish to see what they are working on.
https://typedesk.productpeep.com/
At the above link, you can also submit ideas about new features you want to see in Typedesk.
What's in progress: Multiple Date Formats and Usage Stats on Responses.
What's in the future: Mobile app, More fonts, Folders inside a folder.
Looking forward to all the promised features as mentioned in the roadmap.
Who Should Buy?
Businesses
Enterprises
Customer support teams
Social media managers
Agencies
Insurance companies
Freelancers
Bloggers
Internet marketers
Typedesk Lifetime Deal
Typedesk is running a lifetime deal on AppSumo.
One plan includes a 'Single' code with just one seat while the other includes a 'Double' code with unlimited seats.
Deal Terms:
Lifetime access to Typedesk
All future Premium Plan updates
You must redeem your code(s) within 60 days of purchase
Stack up to 2 codes
GDPR compliant
Only for new Typedesk users who do not have existing accounts
Note: All past AppSumo customers are automatically upgraded to the new 1 code offering and can stack codes for higher limits
60-day money-back guarantee, no matter the reason
Features included in all Typedesk Lifetime deal plans:
Quick shortcuts
Advanced canned responses with variables
Create dynamic snippets
Windows and macOS apps
Web app
Admin Access
Notifications
Integrations: Gmail, Slack, Google Docs, Outlook, Facebook, and more
Typedesk Lifetime Deal has two plans you can choose from. Below are the details.
| Feature | Single Code | Double Code |
| --- | --- | --- |
| Price | $69 | $138 |
| Seats | 1 | Unlimited |
| Canned Responses | Unlimited | Unlimited |
| Image Upload | Up to 50 MB image per User | Up to 50 MB image per User |
| Team Folders & Sharing | Yes | Yes |
| Features | All | All |
Typedesk Pricing
Typedesk offers a forever free plan and a premium paid plan.
The premium paid plan costs $5 per month per user, but you can save 20% if you pay them annually.
They offer a 30-day free trial for their paid plan as well (no credit card required).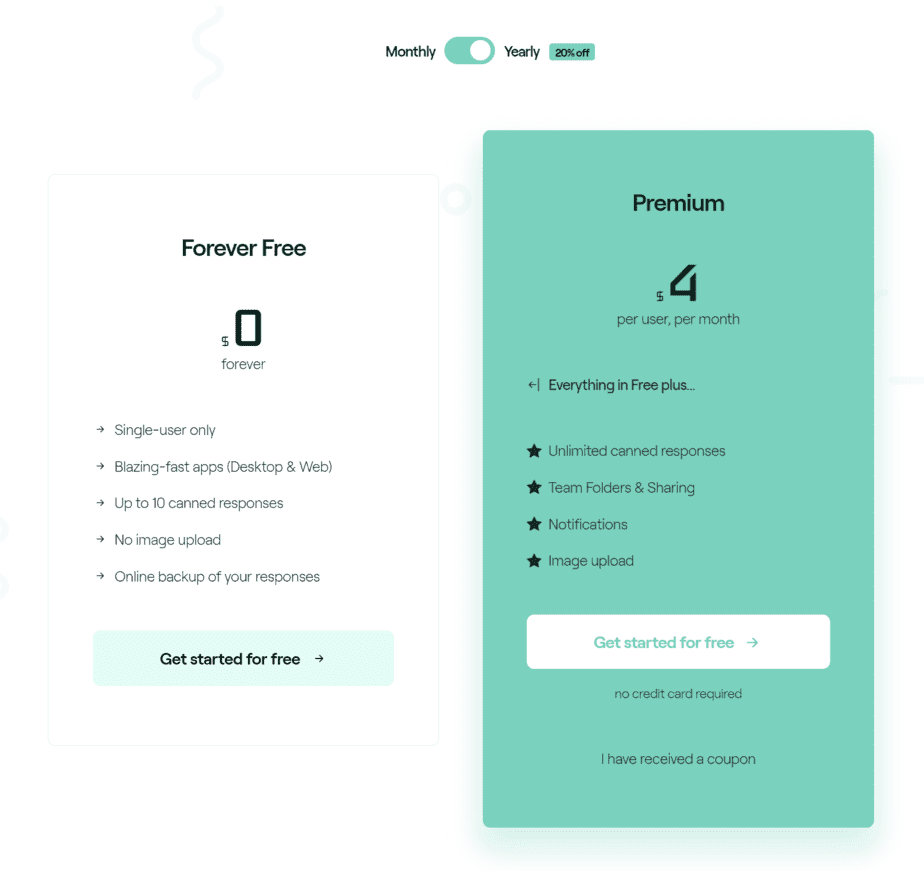 Alternatives to Typedesk
Here is a list of tools that are alternatives to Typedesk.
Text Expander
Phrase Express
Phrase Expander
Zendesk Support Suite
Typedesk Review
Here is my final Typedesk review.
Typedesk is a great tool for those who want to save time, manage their emails and customer service, and don't want to type the same thing over and over again.
This tool can be of great help if you're a customer service person/team who has to deal with many customers daily.
I recommend you to get Typedesk.
It's 200% worth your money and a money-back guarantee cover your investment.
Don't miss the LTD. Get a plan that suits your needs. Go and grab it from here.
FAQ's
Where to get a Typedesk lifetime deal?
What is the refund period for the lifetime deal?
How many codes can I buy?
You can buy a maximum of two codes.
Can I use my account on several devices?
Your Typedesk account is the email you use to log in to Typedesk. You can log in to up to 3 different devices at the same time with the same email address.
Do they offer a mobile app?
They currently do not offer a mobile app, but it is on their roadmap.
Does it work with everything?
Yes, it does! Unlike your usual plugins, Typedesk is on your computer and works everywhere: your inbox, CRM, back-office, Word document, etc.
Is there any limitation to the premium plan?
There is a limit of 50Mb uploads and a max of 1,000 canned responses per user. They can raise that limit if you reach this limit.
Can I import my previous content?
They can import your previous canned responses and you can edit them in Typedesk. Feel free to contact them by email.
Do they offer bulk discounts?
Yes, starting at 15 users, you get an extra 5% discount. For large accounts, feel free to contact them to discuss their enterprise plans.