As a blogger, I rely on tools that can help me generate unique content for my various online projects.
If you love writing articles and blog posts, it can be very frustrating when it takes forever actually to publish them. Most bloggers and writers have the same problem. They are good writers, but they don't have a lot of time.
Textbuilder.AI is software that makes writing articles and blog posts easy.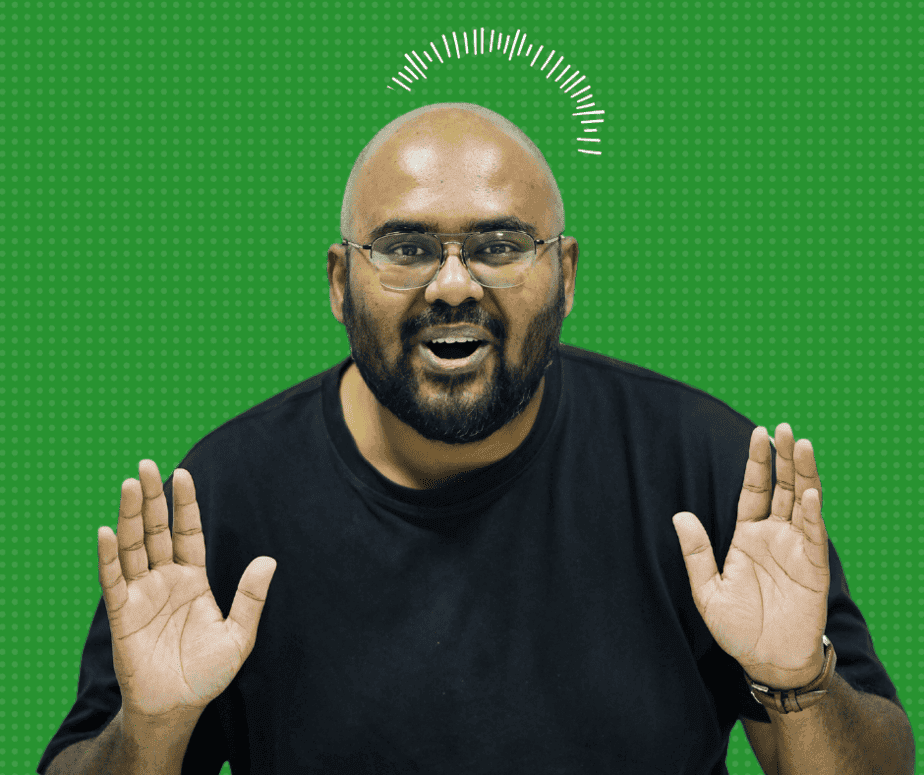 TextBuilder Lifetime Deal
Textbuilder AI makes writing articles and blog posts easy.
TextBuilder.ai Review:
Here are the key points if you are in a hurry and need a quick Textbuilder.ai Review.
TextBuilder.ai Review
Textbuilder.ai is a unique AI Writing Tool that can write high-converting content for your blog posts and amazon affiliate reviews, Instantly helping you create better content. This is specially made for affiliate marketers.

Quick Development, Extremely Fast Generation, Made for Affiliate Bloggers, High-Quality Results, Plagiarism Free, Content That Ranks, More than 100+ Templates, Great Support.

UI & UX is Not mobile Responsive, No Grammar checker & No SEO Features.

30,000 Words per month for each code you buy. (Decent)

It's one of the best AI Writing software I have seen in the market. I suggest you stack at least 5 codes because you will be using them a lot going forward.
What is Textbuilder.ai?
Textbuilder.ai is a unique AI Writing Tool that can write high-converting Blog Posts and Amazon Affiliate Reviews Instantly helping you create better content.
It uses artificial intelligence technology to generate content and saves a lot of time and effort required to write them. It generates high-quality Top 10 Best listicles, How To tutorials, Ad copy, blog posts, product descriptions, video scripts, and more.
I have been surprised by the way it can be used to write long content using AI and impressed with the quality of the content it generates.
TextBuilder.ai is an alternative to Frase.io, Copy.ai, Jasper, Rytr.me & WriterZen.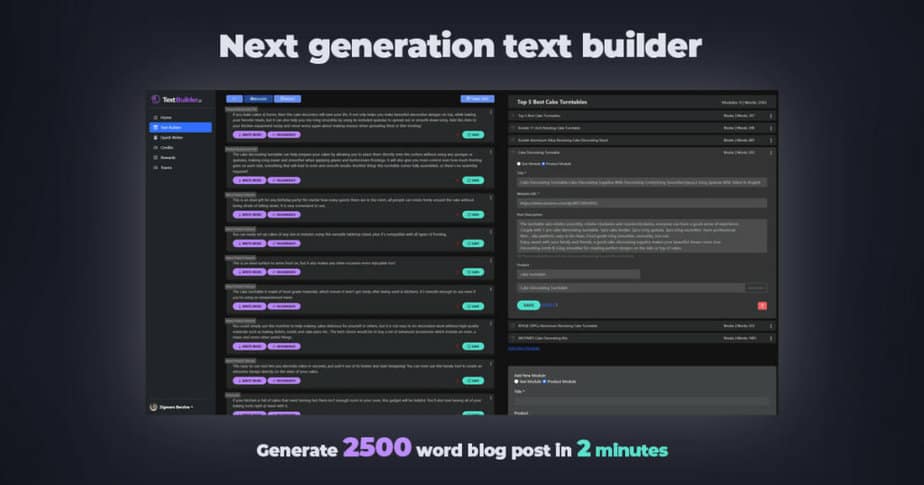 In This Textbuilder.AI review, we will be going over the textbuilder.ai lifetime deal, features, Pros & Cons, and the use cases of textbuilder.ai.
Textbuilder.ai Lifetime Deal:
Below are the Textbuilder.ai Lifetime deal limits.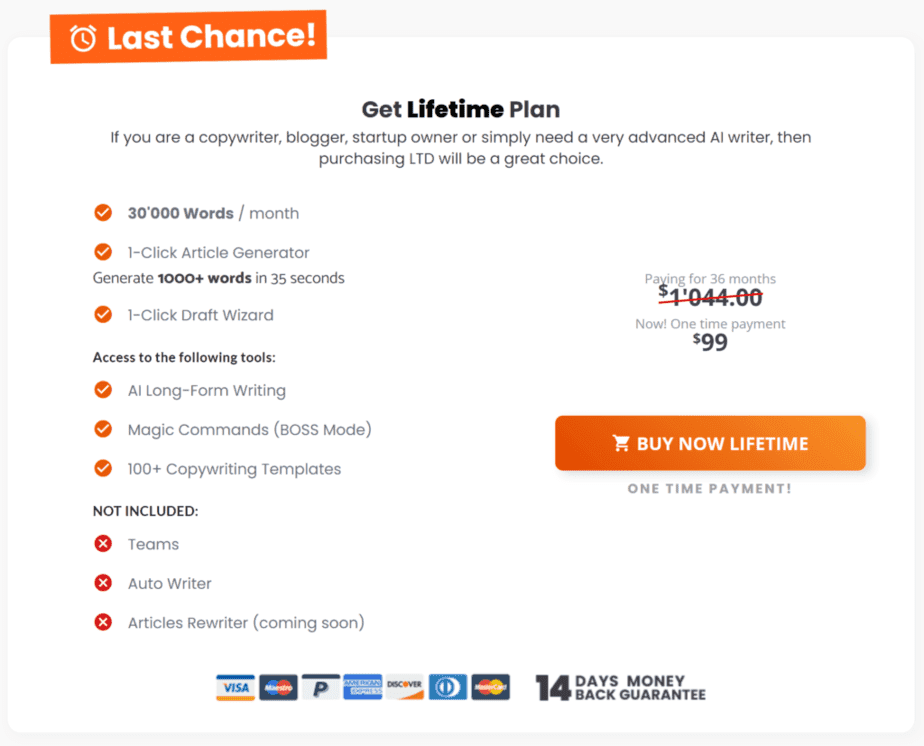 Users with Unlimited subscriptions generate around 130,000-230,000 words per month.
You can stack unlimited codes and each code comes with 30,000 words per month.
There is no Unlimited plan for the lifetime deal but If you are looking for an unlimited plan, I suggest you stack at least 5 codes and that should be sufficient.
Note: You can get access to the textbuilder.ai Lifetime deal only by using an invitation code.
Use Cases:
Here are a few example use cases of TextBuilder.ai.
1. Long Form Blog Articles:
You can Generate long, high-quality articles 10x faster in just minutes using the AI Writer. This helps bloggers to save a ton of time.
2. Amazon Affiliate Reviews:
The part which really attracts me about this tool is, AI Builder's capability of being able to write Amazon product reviews. This is helpful for Amazon affiliate Marketers. It even beats regular affiliate content writers in this aspect.
3. Copywriting Templates:
There are many copywriting Templates that give you ideas to start and this helps copywriters with their writers block.
4. Text for Ads & Websites:
It generates high-quality ads, YouTube video scrips, email campaigns, blog intros, outlines, startup growing ideas and more.
Features:
Here are the features that you get with the Textbuilder.ai Lifetime Deal.
It has a lot of templates for Blog posts, Blog title generator, How we pick & Test?, Social media, SEO, Top 10 Best Article, Product Reviews Paragraph V2, and Many more.
Generated paragraphs are amazing and have no plagiarism. Amazon product reviews template is something that many people will like.
Lightning Fast Generation – Time is money. TextBuilder.ai significantly increased the speed of text generation by using the latest GPT technology for synchronous processing and output. They don't use GPT-3, they use the latest generation of text generation AI with their own trained models running on ultra-fast GPU cloud servers. This is why we are able to provide SUPER FAST text generation. You can get results in 2-5 seconds.
100% Unique Text – Nobody wants to copy/paste or spin text. TextBuilder.ai generates text using its own trained GPT-J, GPT-Neox, and GPT-3 to provide the most unique texts that can pass Copyscape tests.
Top Notch Support – Don't worry if things don't work out or you don't understand something. TextBuilder.ai support is fast & friendly. Their team members are knowledgeable.
Templates – I don't need to build any extra affiliate frameworks, and everything is readily available in it.


FAQ Ideas – I also love the FAQ Ideas output.
Conclusion Paragraph + CTA is a very nice and unique feature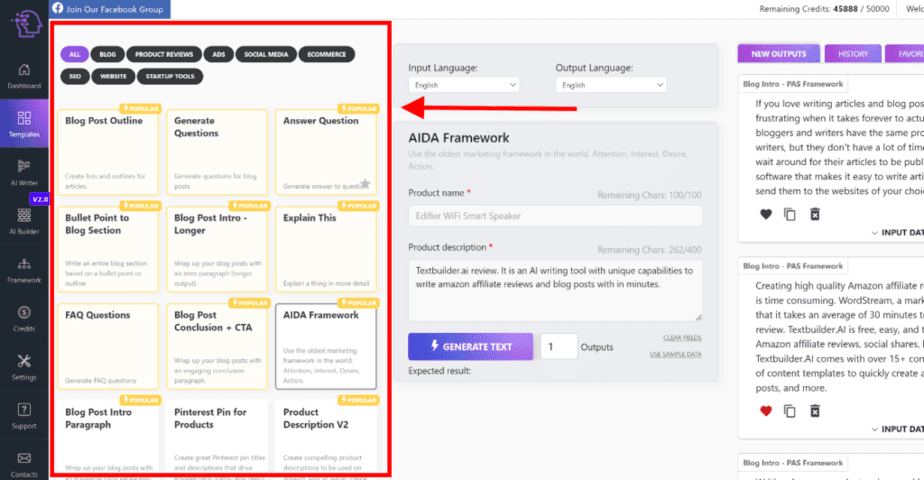 Results History – You can see all the results history. I also like that the editor does not lose any content while switching different tools like intro, outline, etc.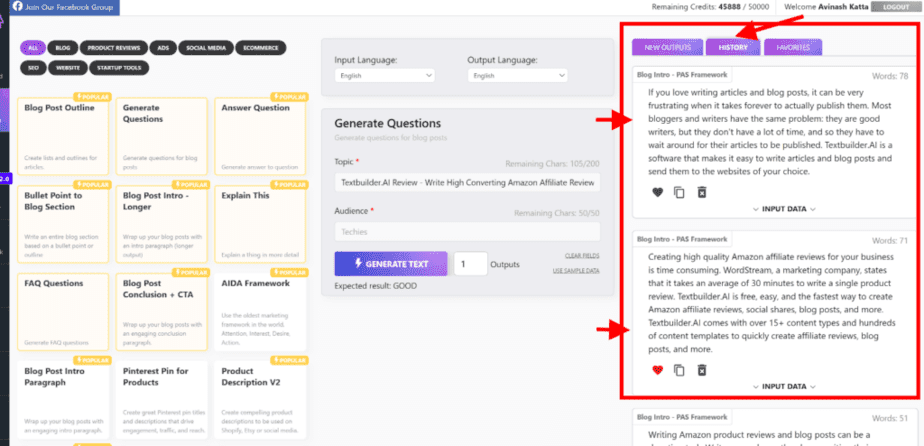 Input Data Button: You can see what data you have entered in previous templates. This makes it possible to see what data was entered for each result. Just click on the "INPUT DATA" button, and click on the "ADD TO GENERATOR" button, that data can be copied to the form and used again. This will help you to write even more efficiently.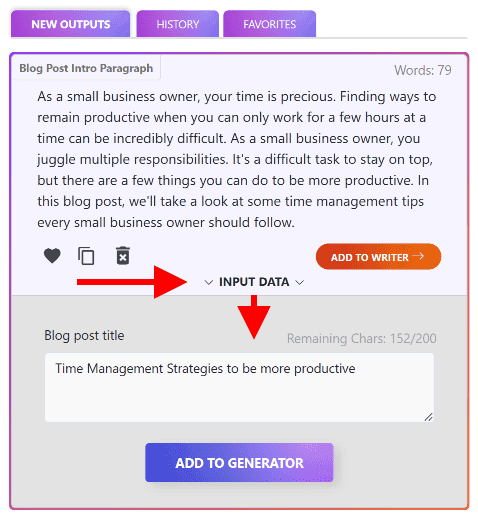 AI Writer – 'AI Writer' is a very interesting feature, and I haven't seen anything like it before. Exceptionally thoughtful and beautifully executed every time!!!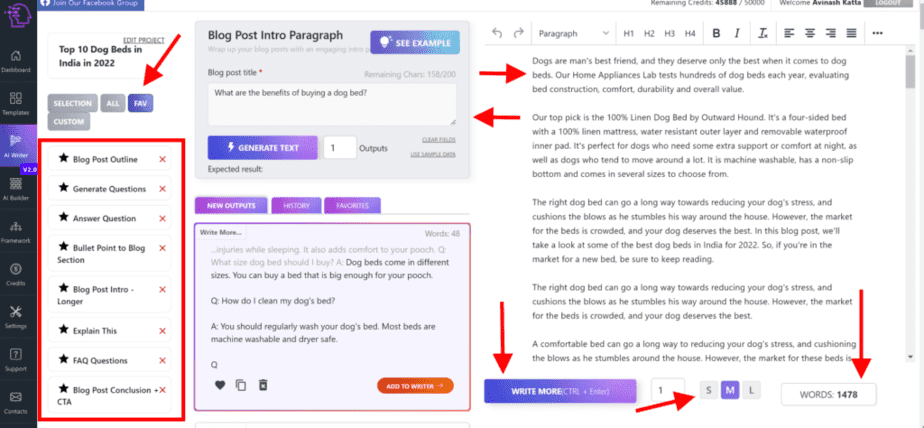 Long Form Editor: TextBuilder.ai also includes a long-form copywriter, which is available for all payment plans (including free).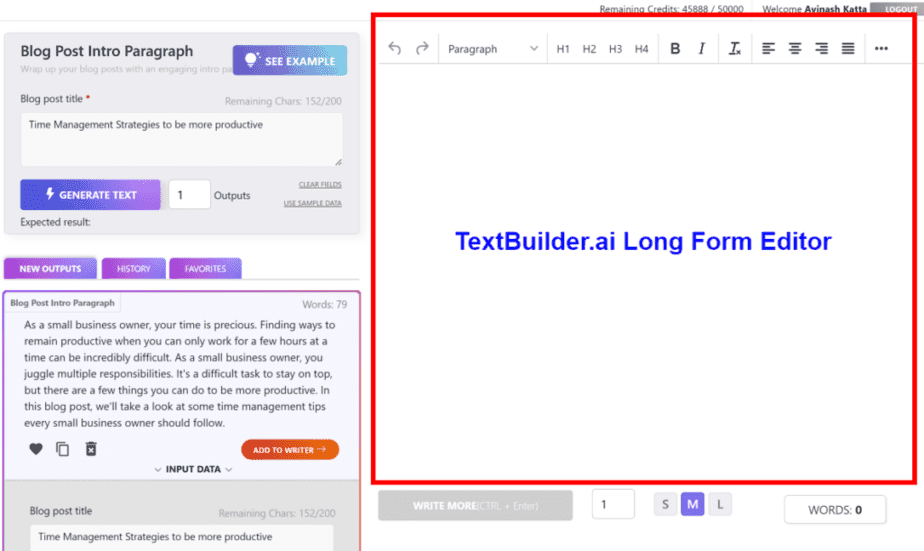 Add to Writer: Generate any topic, and when you click on the "add to writer" button, that text will automatically be added to the long-form editor on the screen to the right.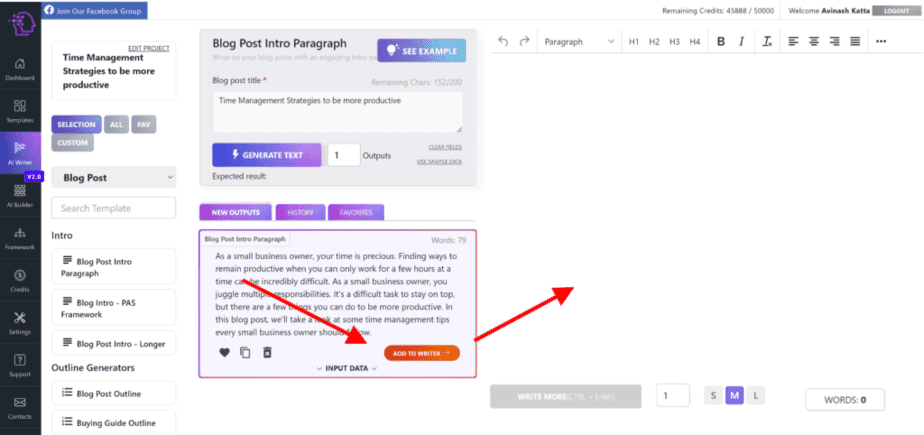 Credit Managers – These are the little options that help you manage & save your credits (or not spend them unnecessarily).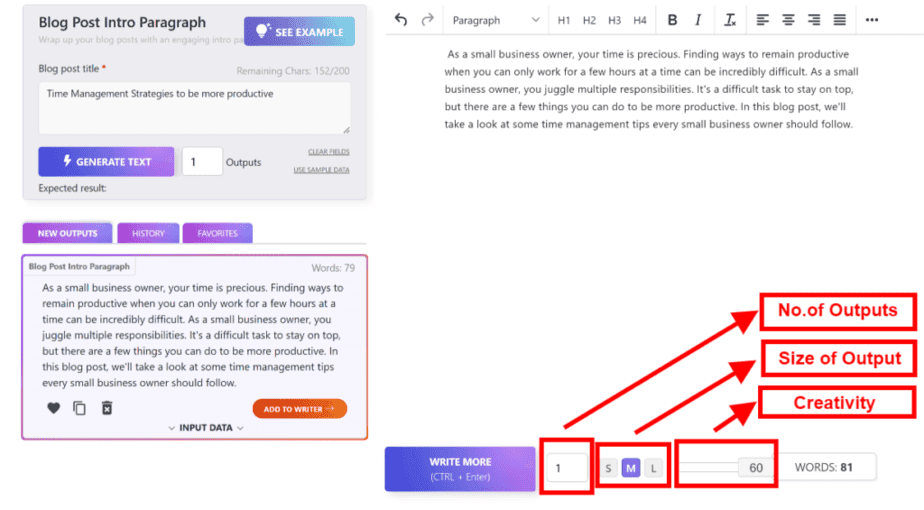 AI Builder – World's first Top 10 Best Listicles Generator – Listicles are great. Just write a keyword, click on "Build List," and done! Your listicle is READY! Again, the ability to come up with product reviews from information on the Amazon Product Page is excellent.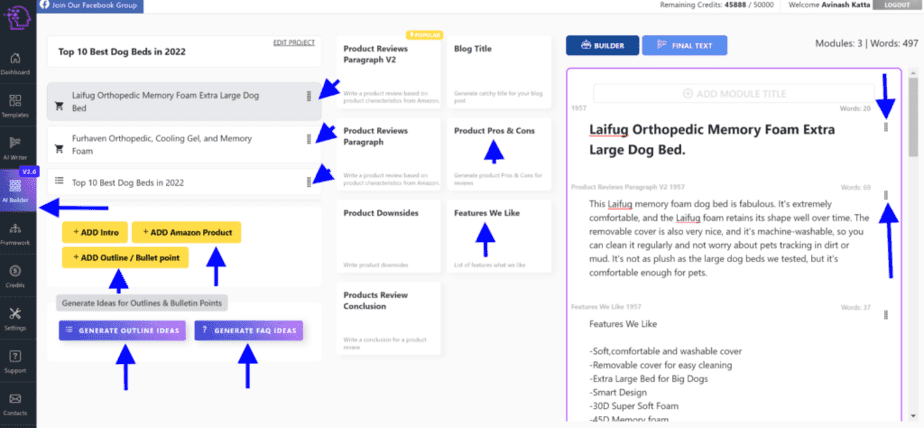 Custom Frameworks – It is good that we can develop our own frameworks. There aren't many AI tools that can create custom templates, but TextBuilder does. You can create a custom framework that meets your specific needs.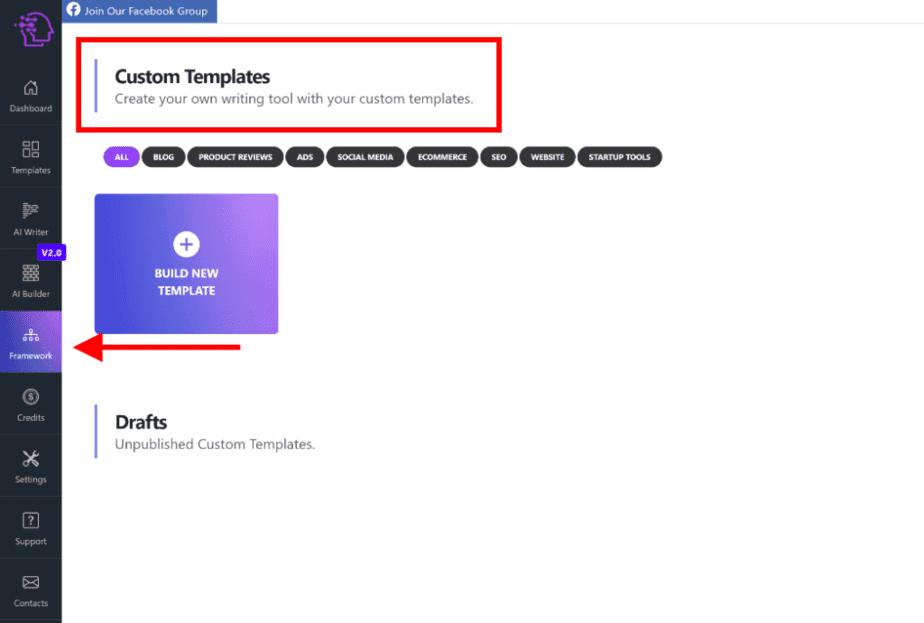 Rewrite – You can select the text you want to be rewritten, and Textbuilder will rewrite the content.
Templates – You can write different types of content within minutes that are of High Quality.

Top 10 Best [product] Listicles

Affiliate Product Reviews
How-to Blog posts
Buyers Guide blog posts
more Affiliate and Blog Content
A long blog post for any niche
How-to style articles
Guest posts for blogs
E-Books
Articles for Fiverr, Upwork, etc.
Ads Copy (AIDA, PAS, Facebook, etc.)
Social Media Content
Shopify/Amazon Product Descriptions
Texts for Websites
E-Mails
Pros:
Quick Development – I Keep seeing Regular updates from the developer. Before I use yesterday's development, there is a new development today.
Extremely Fast Generation – Response from TextBuilder is very fast. It's like 5x faster than the competitors. There's a very straightforward "Input Form," and the outputs are pretty accurate.
Made for Affiliate Bloggers – It's built and trained for a very specific purpose, for writing product reviews and listicles for affiliate blogs.
High-Quality Results – In many AI writing tools, Repetition and Content Quality are significant issues, but in TextBuilder, that is not the case. As much as I use it, as much as I like it.
Plagiarism Free – Most of the time, the content created using Textbuilder is plagiarism free and 100% Unique Text.
Content That Ranks – Produces solid blog content throughout. Blog post intro, Conclusion Paragraph + CTA.
More than 90+ Templates – Text builder has a good collection of templates for common use cases. All the tools/templates are in sequence.
Support – Great customer support, and the founder is very responsive in the Facebook group.
Cons:
UI – The UI section could be improved. Currently, it looks quite cluttered. It's not optimized for the tab and small screens. It's Not mobile-responsive.
UX – Good that all the options and functionalities are in the same window, but because of the UI issues and as the sorting system is still being built, there are UX issues. But as it's still early, I guess this will be sorted out.
No Grammar & Plagiarism checker. Have to get it done externally in Grammarly & Copyscape.
No ability to export text to WordPress. You need to Copy & Paste.
No SEO features like NLP keywords. Have to do it with External Tools.
They are missing a Flow builder. A flow builder is a collection of short-form generators in a step-by-step process. In this way, a person can generate a blog title, meta info, outline, sections, and so on. The flow designer would set this apart from many others in the market.
RoadMap – There is no Public Roadmap.
Pricing: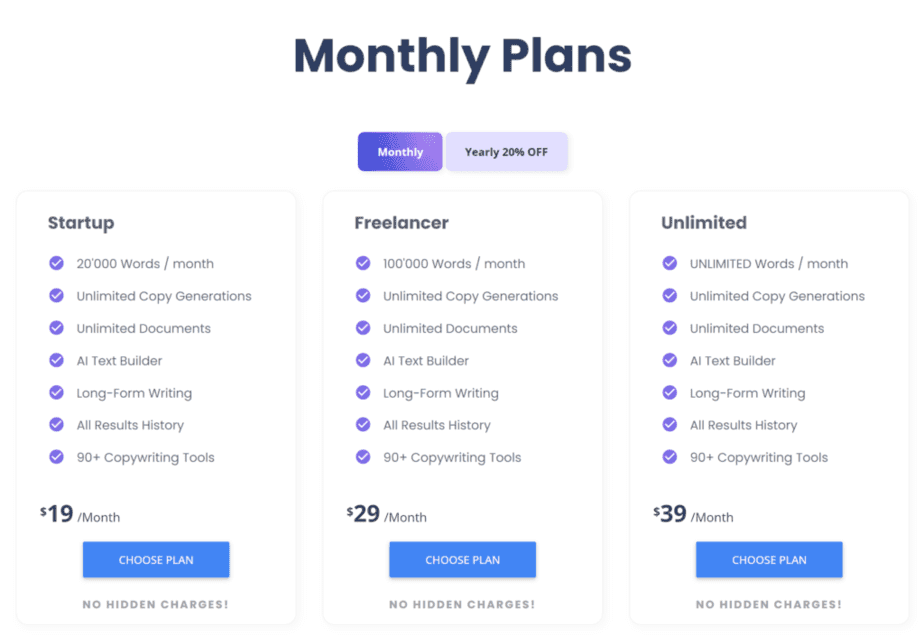 About the Company:
There are many AI writers on the market, but Text Builder is unique. It's Made for Affiliate Bloggers.
TextBuilder.ai is built by an affiliate expert who has been blogging and earning from Amazon, ShareASale, Commission Junction, Impact, and many private affiliate networks for years. He knows how to write articles that get on the first pages of Google.
He has integrated all this knowledge into TextBuilder's AI models, so you, too, can write high-quality blogs and earn from affiliates.
| Assets | Resources |
| --- | --- |
| Website | https://textbuilder.ai/ |
| Lifetime Deal Link (Latest) | https://app.textbuilder.ai/credits |
| Founded in | 2021-11-06 |
| Domain Registered till | Not Known |
| Founders | Zigmars Berzins |
| Estimated Number of Employees | 1 Man Army, Single Founder and Recruiting a team. |
| Facebook Group (Very Active) | Text Builder.ai Facebook Community |
| YouTube Channel | TextBuilder.ai Tutorial Videos |
| Support | support@textbuilder.ai |
| Help Documentation | Not Ready |
| GDPR Compliance | Yes |
| Free Trial | Yes, You get 1000 words for Free. Sign Up Here. |
| Blog | https://www.textbuilder.ai/blog/ |
| Referral Program | Yes, you get 10,000 Extra words for every paid referral. |
| Roadmap | Under Construction |
TextBuilder.ai Review:
Although there are tons of AI writers, Textbuilder looks promising and is uniquely built for affiliate marketers.
Ideal for Affiliates
Easy to use
It has a Minimal learning curve.
You can use it to generate affiliate articles, product reviews, video descriptions, and other content for your affiliate sites.
Its goal is to help you frequently, consistently, and reliably write for affiliate marketing.
This is a Gem, and at this price, with a limit of 30k words per month with nearly 0% garbage generation, it's a steal & a must-have Ai writing tool.
The tool is currently in its early stage, but overall looks very good. It's a good investment & saves money on your monthly billing.
Don't miss out on this deal. Get multiple codes based on your needs.
Go for it. Get TextBuilder.ai Lifetime Deal: (Follow the Below Steps) 😀
FAQs: