Summary: 📋
If you are in a hurry and need a quick Texau review, here are the key points.
KEY POINTS
TexAu is a powerful Automation tool.

Automates your manual tasks and saves you lot of time.

There is a learning curve, with out learning it's not safe to use the tool.

1 code $99 to 12 codes $1188.

10% discount if you are an AppSumo plus member or BriefcaseHQ. member.

It's a good product. Try getting at least 2 codes.
Now let's get started with the In-depth Texau review.
What is Texau? 👍
TexAu is a powerful Automation tool to harness social media data and build a pipeline of qualified sales prospects in minutes.
Note : TexAu comes with 180+ Automations across 10+ Social Media Platforms
Use Cases of Texau : 💡
Check out this page to find different use cases of TexAu.
---
Pros
180+ Automations with endless possibilities
Best tool for Lead Generation and Automations
Consistent on new developments and updates
Hot Leads by Email Enricher
It works great on different platforms and websites
Comes with 100+ Spices for different Automations
Easy to setup complex Automations in few clicks
TexAu Prospector works great for focused outreach
Easy to manage and enrich data on TexAu's Dashboard
Best support on Facebook Community & Live Chat
Constantly updating and upgrading platform
Cons
UX can be better
It is bit difficult for beginners to understand.
Public recipes can be improved
More tutorials can be added on all spices and recipes.
Reviews: 📰
Check out what others are saying about Texau. Below are screenshots of 4 Texau reviews from people who got to use it.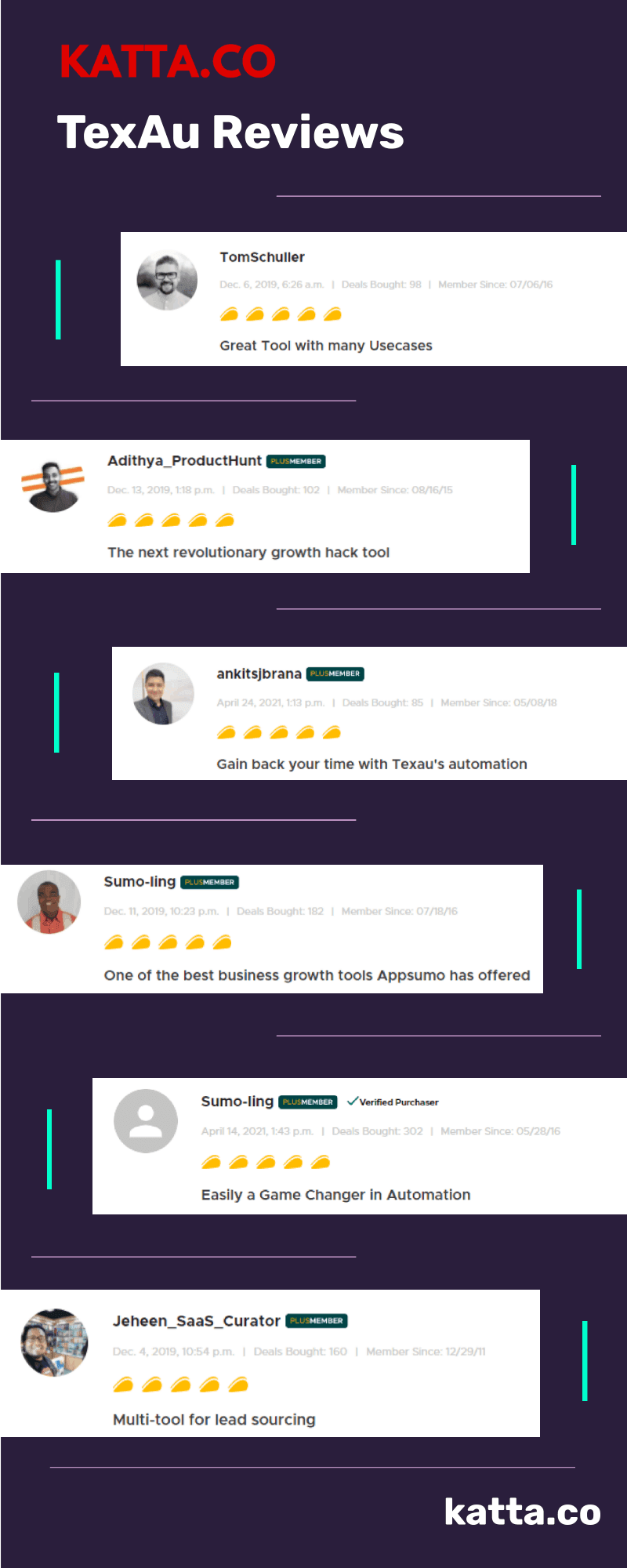 Alternative to: 🤠
Here is a list of tools that Texau is an alternative to.
Phantombuster
DataScraping.co
Octoparse
ScrapeStorm
import.io
Scrapy
ScrapeHero
ParseHub
Portia
TexAu Vs PhantomBuster : 🥊
Here is a chart that compares TexAu Vs PhantomBuster.
| Feature | TexAu | PhantomBuster |
| --- | --- | --- |
| Efficient Automations | Yes | No |
| CRM | Yes | No |
| File Storage | Unlimited | Limited |
| Easy-to-use, drag and drop workflows | Yes | No |
| Send emails using Gmail / GSuite | Yes | No |
| Slack Bot notifications | Yes | No |
| Growth specialists available | Yes | No |
| Inbuilt email finder | Yes | No |
| Inbuilt email verifier | Yes | No |
| Inbuilt data enrichment | Yes | No |
| Webhook support | Yes | No |
| LinkedIn drip campaigns | Yes | No |
| Event-based workflows | Yes | No |
| A private community | Yes | No |
UI & UX: 🌐
TexAu has an intuitive drag & drop interface.
Interface is simple and easy to navigate through all the spices and recipes.
Interface is easy to understand and build custom workflows to automate any tasks.
UX can be better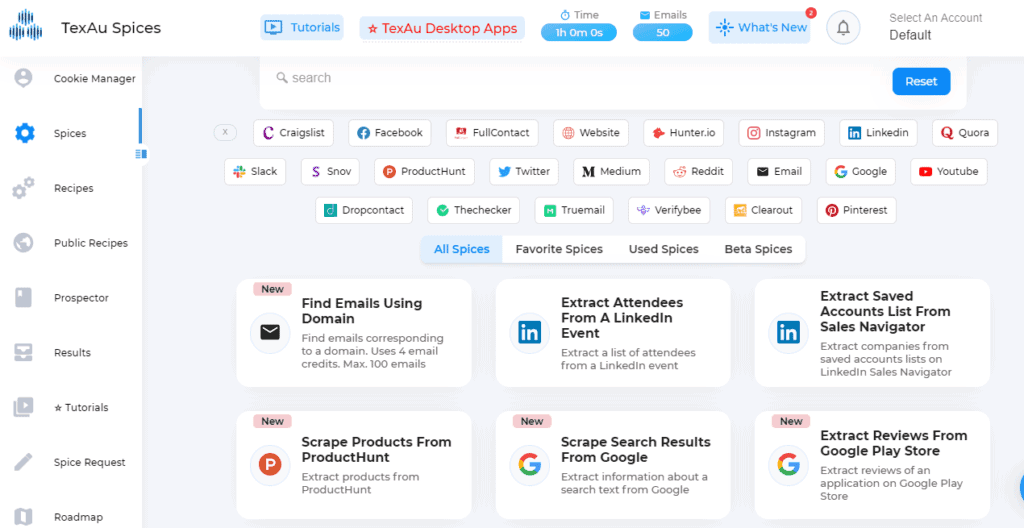 Features: 💪
Here are the features that you get with the Texau lifetime deal.
TexAu Prospector: This Feature easily helps you to find emails of the targeted employees by using LinkedIn. This works great by just generating enriched data in minutes by taking some basic inputs without much effort.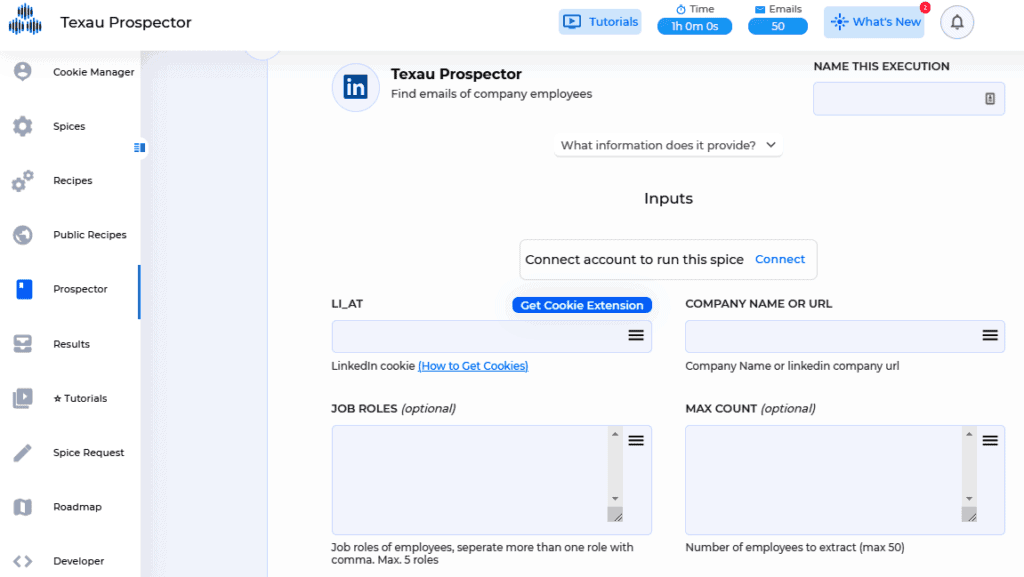 LinkedIn Drip Campaigns: This feature comes with the purchase of minimum 3 codes, you can send a connection request to your targeted audience and follow-up messages with personalized images and videos.
TexAu Public Recipes: Public Recipes are pre-made recipes that TexAu recommends you to use for different automations by simply cloning the existing ones as per your need without wasting much of your time.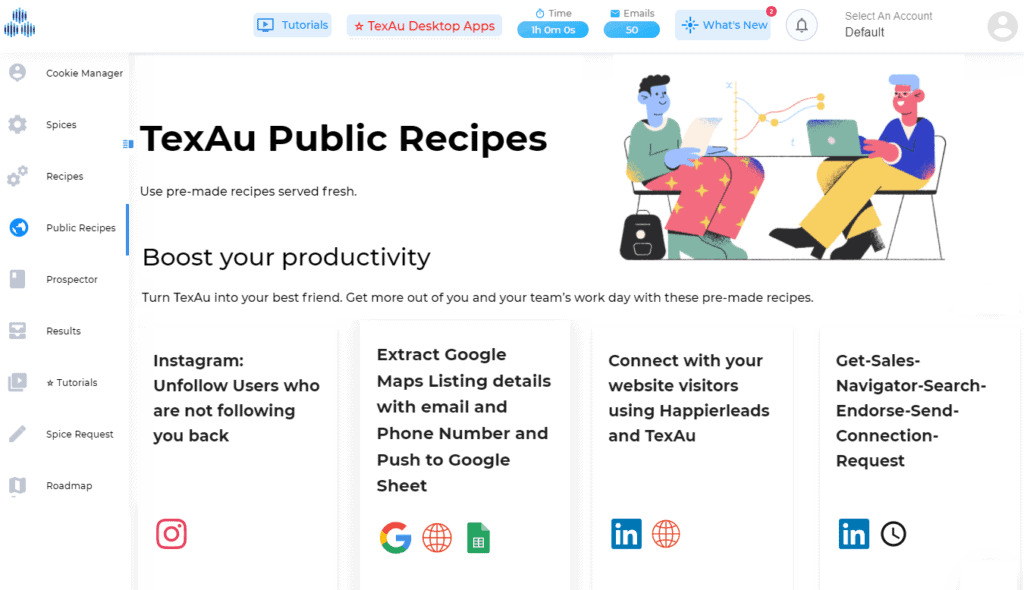 TexAu Teams Feature: TexAu Teams allows you to easily add your team members by sending an invite, you can also assign roles (Viewer, Editor, Admin) to them, and give permissions to run automations for specific platforms.
Integrations: 🤝
Below is a list of Texau integrations.
Snov.io
Hunter.io
Fullcontact
Lemlist
Support: ☎️
These are Texau support details in case you want to contact them.
You can search on TexAu Knowledge Base (https://support.texau.com/en/ ) for all your queries. If you don't find answers to any of the queries then you can chat with the support team on the Website or send an email to support@texau.com for a quick response.
Resources: 📖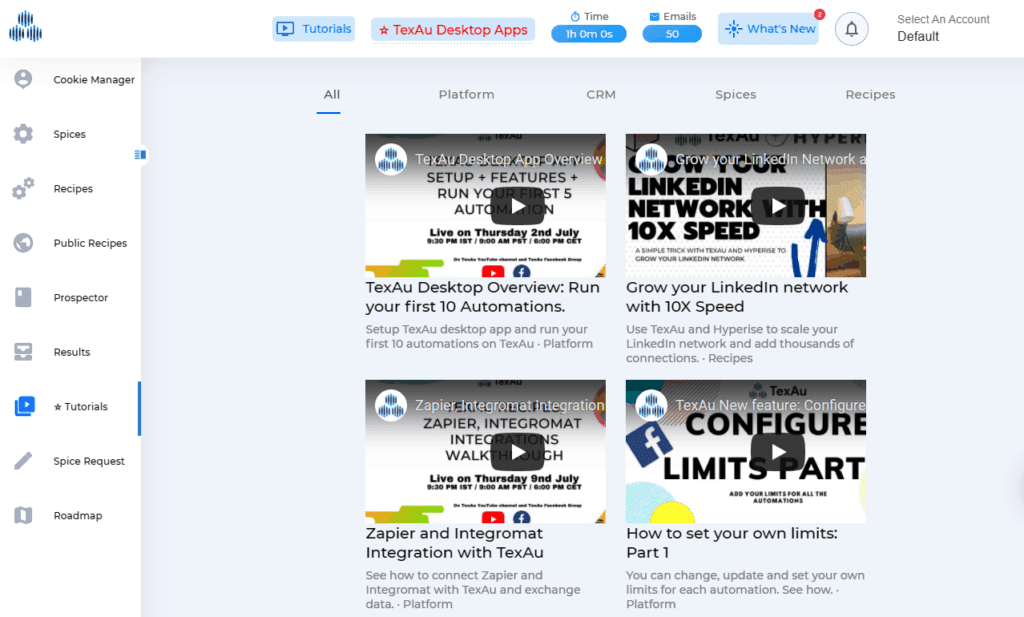 Roadmap:🚍
Here is the Texau roadmap, if you wish to see what they are working on.
In the year 2019, 2020, 2021 there were many Spices, Recipes, Integrations, and Features Released along with major developments & improvements on TexAu platform.
In Progress: TexAu Team is currently working on Security, Stability and Fixes on platform and also working on Moosend & MailShake Integrations.
Development: There are lot of things taken in development based on user recommendations like Integrations, Automations, Workflows and many more.
Future: TexAu team is exploring on other Integrations, Recipes along with the more Security, Stability and Fixes on the platform.
Roadmap: https://app.texau.com/roadmap
Looking forward to all the promised features as mentioned in the roadmap.
Who Should Buy? 💳
Business Owners
Marketers
Entrepreneurs
Digital Agencies
Sales Teams
Automation Enthusiasts
Lifetime Deal Pricing: 🤹‍♀️
For Texau LTD Pricing, you have multiple plans in total. Below are the details.
| Features | 1 Code | 2 Codes | 10 Codes |
| --- | --- | --- | --- |
| Price | $99 | $198 | $990 |
| Execution Time/Day | 20 Minutes | 40 Minutes | 3 Hours 20 Minutes |
| Parallel Executions | 2 | 4 | 20 |
| Email Enrichments/Day | 10 | 20 | 100 |
| Min Time Interval to fetch data from Source (Google Sheet,..) | 20 Minutes | 15 Minutes | 5 Minutes |
| Unlimited Automations | Yes | Yes | Yes |
| Full Automation Library Access | Yes | Yes | Yes |
| CSV & Google Sheet Processing | Yes | Yes | Yes |
| Running Automation from Results | Yes | Yes | Yes |
| Exporting & Editing Automation Results | Yes | Yes | Yes |
| Workflow Builder (Spices) | No | Yes | Yes |
| Slack Integration | No | Yes | Yes |
| Zapier Integration | No | Yes | Yes |
| Upcoming Integrations | No | Yes | Yes |
| LinkedIn Drip Campaigns | No | No | Yes |
| 2 Additional Team Members | No | No | Yes |
Monthly Pricing: 💲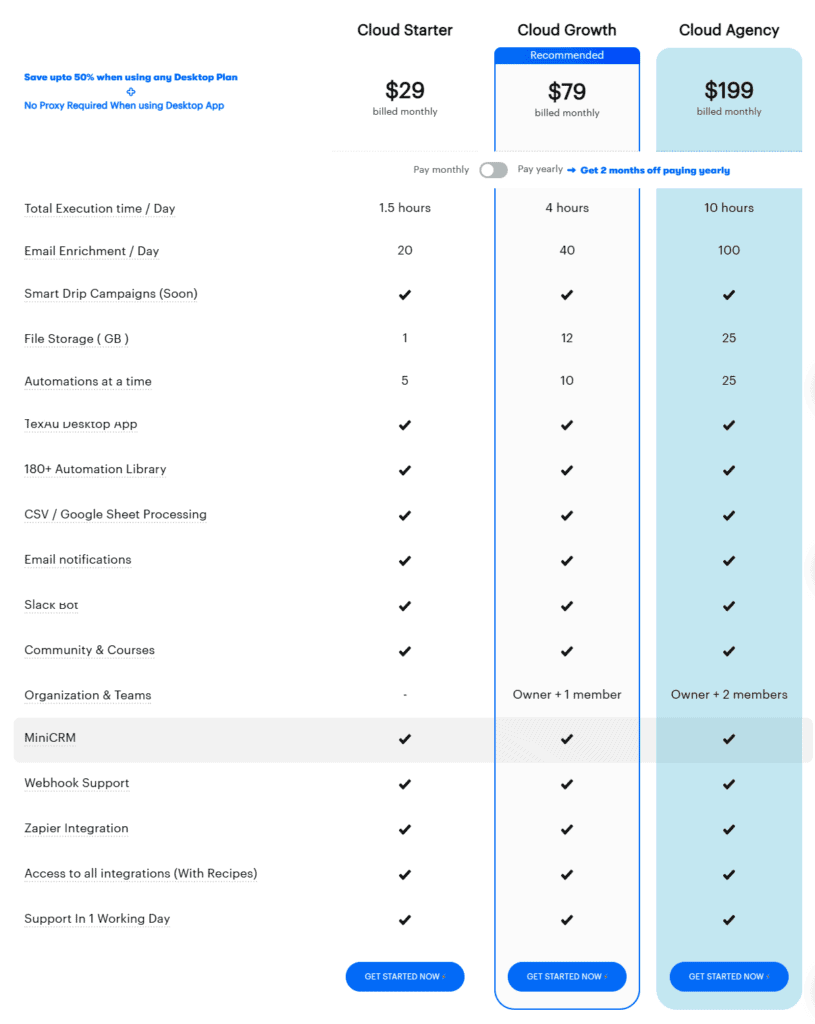 FAQ's: ❓
Where to get TexAu Lifetime Deal?
Which plan to choose ?
I would recommend going for at-least 2 codes.
If you need drip campaigns – 3 codes
If you need team members – 6, 9, 12 codes
If you need unlimited desktop time – 12 codes
What is the refund period ?
You will have 60 days to test the product and refund if you don't need it.
Is the User Interface good ?
TexAu's interface is simple with drag-and-drop options to build custom workflows.
Is there any tool coupon code or discount available ?
You can get a 10% percent discount if you are an AppSumo plus member or BriefcaseHQ member. You can get plus membership here: https://swiy.io/appsumo-plus
What is Spice ?
Spice is a single automation that is created to perform a particular action on web. Example. Sending a text message, sending a connection request, extracting all the members of a FB Group.
What is TexAu Email Enrichment ?
TexAu's in-built Email Enrichment Service helps you to find emails based upon some inputs and verifies them on their server by delivery report.
Any Plans to build integrations with AppSumo LTD CRMs ?
What are the features accessible for number of codes ?
With 2 codes you get all Recipes unlocked, Drip Campaigns comes with 3 codes , with 6 codes unlocks Teams Feature and along with 12 codes you get TexAu API and Desktop unlimited time.
Final Verdict: 🤘
TexAu is a powerful platform with social media automation, workflows, and integrations to generate more leads and scale your business faster.

Though it's a little high on the LTD pricing right now, It's a good investment for your business.

Go for it. It's a good investment. Get Texau Lifetime Deal Now 😃
June (2021) Deals: ⛳
Trending Deals 🤓
Latest Attractions 😎
NoteWorthy Deals ⛳
Marketplace Gems 💎
Check this out: 🔥
Join our Private FB Group 🧑‍🤝‍🧑
See the latest LTD News 📋
Exclusive Lifetime Deals 🛠️
SAAS tools reviews 🧐
Help Me 🙏
Hey, providing you this kind of review requires purchasing the software, testing it, and then writing it. There is money, time, and effort going into it.

If at all you found the review helpful and decided to buy the software, consider buying it through my affiliate links above.

This will encourage me to keep reviewing more tools and also help in keeping KATTA.CO website live.

You can also bookmark this page and come back later when you decide to buy it.

Thank you for reading Texau review on Katta.co

Yours
Avinash Katta.