What if I say there's a possibility to identify weak spots in Google's SERP for you so that you can write content and instantly rank within the top 10 of Google?
RankAtom does it for you.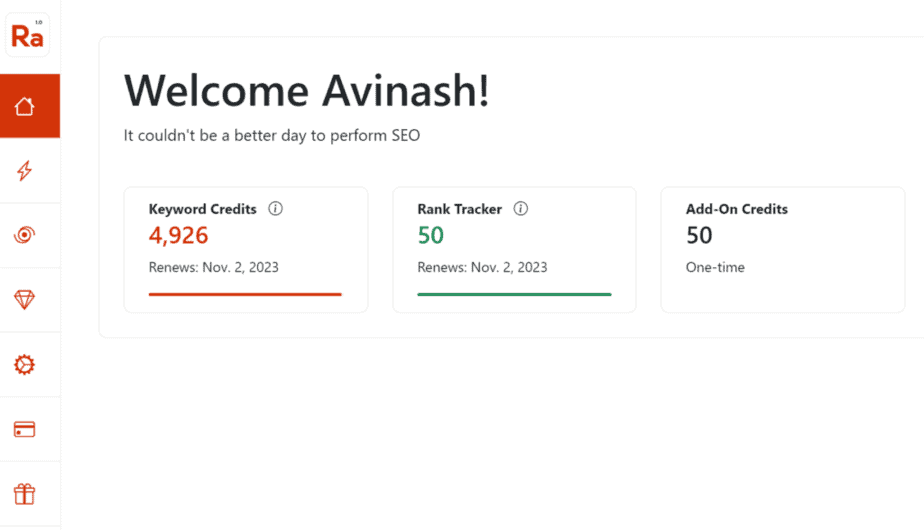 I can't believe how much it has revolutionized my approach to search engine optimization and keyword research.
Before we get into the RankAtom review, I want to let you know that their special lifetime deal is about to end. You can click here to get a deal before it's too late.
If you're serious about improving your search engine rankings, Rank Atom is the game-changer you've been waiting for.
RANKATOM REVIEW
RankAtom is an SEO solution for identifying weak spots on Google,

keyword tracking

, BERT tracking, and SEO reports.

Finds easy-to-rank keywords in minutes, Efficient SEO Analysis, Time-Saving Tool, Revolutionary Keyword Generation, Accurate Rank Tracking, and Superior SEO Metrics.

BERT analysis is not up to mark and the keyword research module sometimes gives irrelevant and repeated keywords.

5000 Keyword Credits per month,50 Rank Tracker,5 Competitor Analyses, and Export Reports.


Rankatom is a powerful solution for improving your SEO game.
Let's get deep into the RankAtom review.
Table of Contents
What is RANKATOM?
RankAtom is a complete SEO solution designed to help businesses improve their search engine rankings. It has many features, including keyword research, competitor analysis, and identifying opportunities for improvement. 
This Keyword research tool empowers you to make data-driven decisions with real-time SERP analysis for optimized SEO strategies. It also monitors keyword ranks and provides performance reports for continuous monitoring of SEO developments without manual analysis.
RankAtom revolutionizes the keyword research process, enabling you to effortlessly discover the most relevant keywords for your niche or industry. No more wasting time on irrelevant keywords and outdated metrics like KD (keyword difficulty) that don't drive traffic.
RankAtom is an alternative to AHREFS,Semrush,Juice.ai,LowFruits,Wincher.
In This RankAtom review, we will be going over the RankAtom lifetime deal, features, Pros and cons, and the use cases of Rankatom.
Use Cases:💡
Here are a few example use cases of Rankatom
RankAtom Pricing:
Below are the regular Rankatom Pricing details on their website: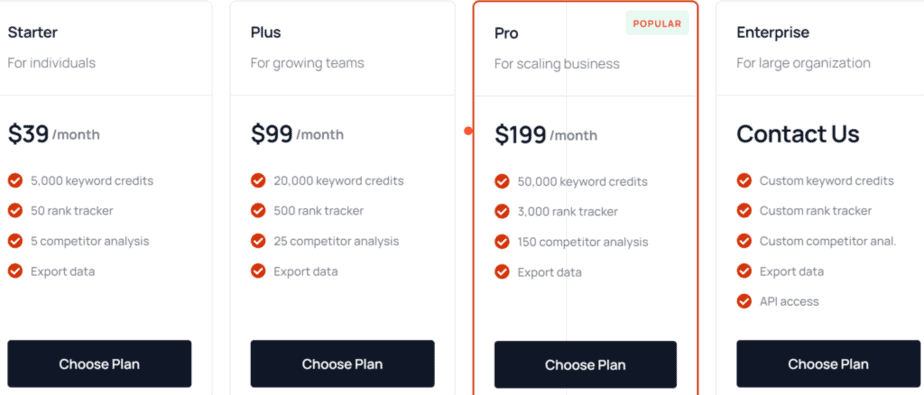 RankAtom pricing starts from $39/month, for which you will get 5,000 credits, 50 rank trackers that provide real-time SERP analysis for position tracking, and 50 competitor analyses that deliver valuable insights into your competitors.
The higher you select your plan, the more credits you will get.
But now, with RankAtom lifetime deal is a fantastic steal. With this offer, you can make a one-time payment of $39 and enjoy a lifetime subscription, which means you'll have access to RankAtom without any additional monthly charges.
RankAtom Lifetime Deal:
| | | | | |
| --- | --- | --- | --- | --- |
| Deal | Price | Keyword credits per month | Rank Trackers per month | Competitor Analysis per month |
| License Tier 1 | 39$ | 3,000 | 30 | 3 |
| License Tier 2 | 99$ | 9,000 | 90 | 9 |
| License Tier 3 | 169$ | 18,000 | 150 | 15 |
| License Tier 4 | 279$ | 30,000 | 250 | 25 |
| License Tier 5 | 499$ | 55,000 | 550 | 55 |
RankAtom review
Plans & features for this Deal
Deal terms & conditions
Features included in all plans
Discover if it's your perfect fit with a 60-day money-back offer!
Features:💪
Here are the features that you get with the RANKATOM.
1. Rank Tracking:
This feature gives very accurate results. It enables you to monitor you and your competitors daily, weekly, and monthly. It provides valuable insights about my competitors by tracking changes in the top 100 search results, for making data-driven decisions.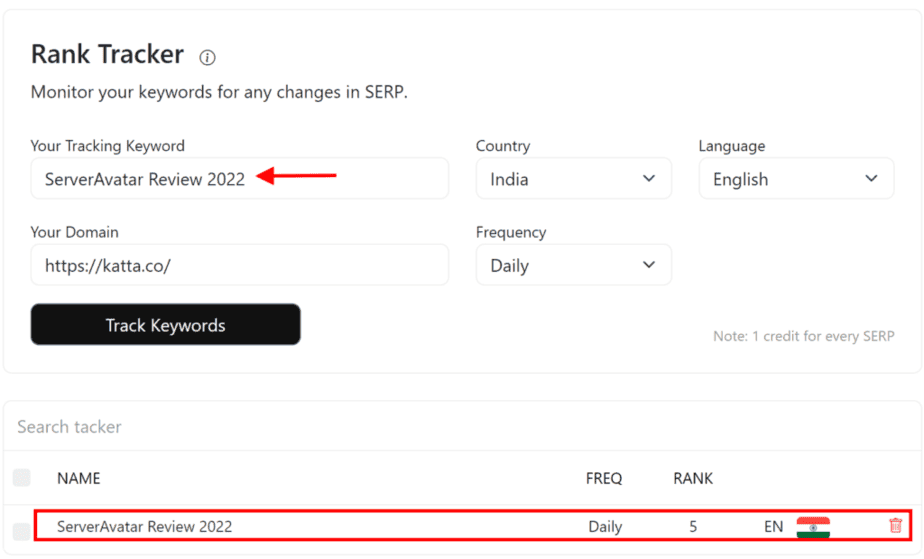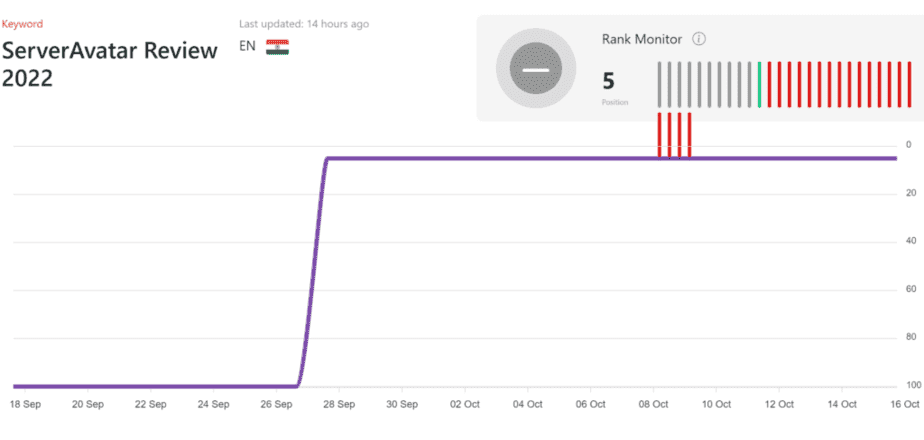 2. Identify Weak Spots
The Weak Spots Discovery feature of RankAtom is an excellent tool for optimizing the SEO strategy of your website. It enables you to find opportunities by analyzing search engine results pages and identifying high-ranking keywords for your website based on your seed keyword. Weak spots are results that are normally poor in SEO, and when they appear high up in the search term, it indicates that the keyword will be simple to rank for.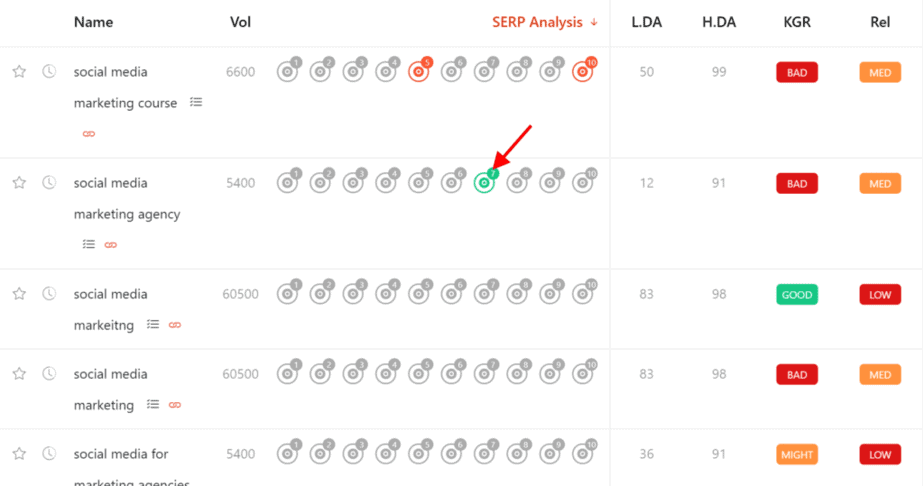 This feature can also be used for Google Ads purpose, by clicking on the search results near the keyword. You can also see which ads are up right now as well as what people are looking for.

3. Keyword Clustering
 This feature helps in Clustering keywords based on the SERP that has similar search intent according to Google. Combining these keywords and incorporating them into content will enhance the search volume you receive.

Tip 1: Instead of looking for low-competition keywords across various clusters, you should concentrate on one cluster at a time. Write content on that cluster completely, and then move to another cluster for better Ranking.
4. Custom Weak spot Domains
Rankatom helps you to customize weak spot domains and specify a minimum domain authority to adjust your findings further. These weak spots are from Quora, Reddit, forums, files, and social media results.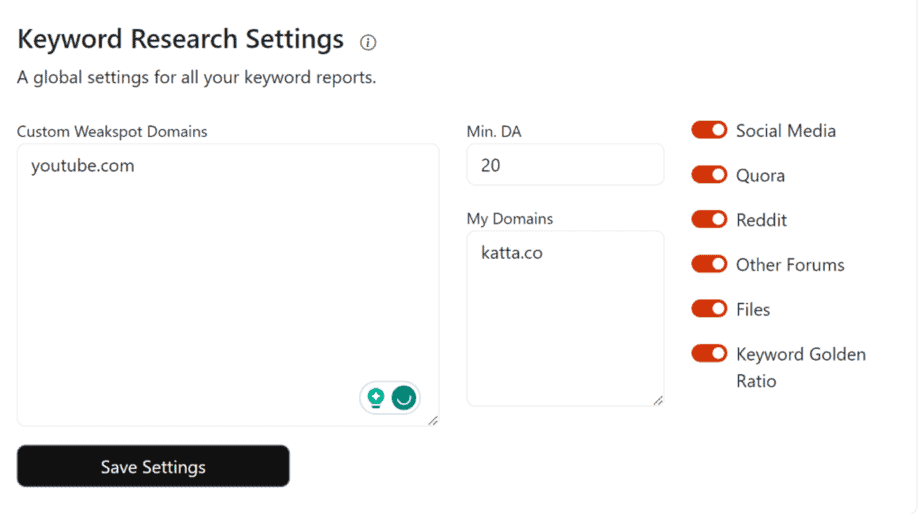 5. Keyword ideas
 RankAtom extracts keywords from Google autocomplete and you can see exactly what your users are looking for on Google. You can effortlessly find long-tail keywords, by using Words filter where you can choose the length of your keywords.

On the left side, there is a list of keyword types. When you select any of these keyword types, it will display results related to that specific type.
Tip 2: Instead of analyzing all the keywords and spending more credits, only analyze keywords you have doubts about.
6. Wildcard (*) searching
It helps to find those unique keyword combinations that your competitors overlook when you enter the search term.
For instance, when I typed "what is" in the wildcard search field, all the keywords that contained the word "what is" in that topic were displayed.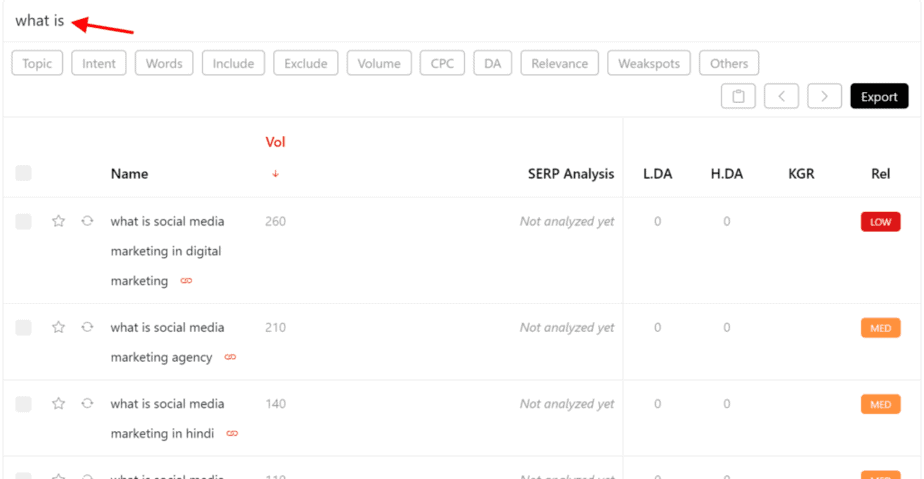 7. BERT Analysis
 BERT analysis is a unique feature that will help you produce content that both Google and your audience will appreciate.BERT scores for longtail keywords, especially questions, can land you in Google's Answer snippets and pave the way for Google Bard AI to provide user answers.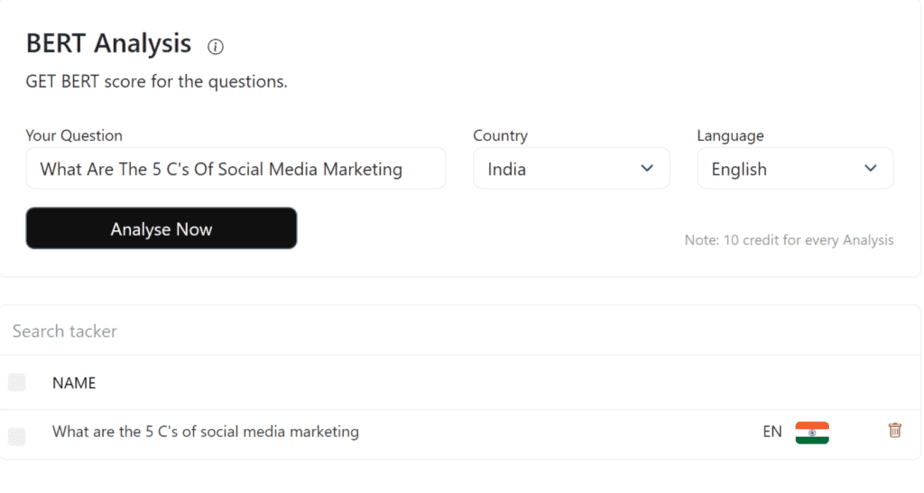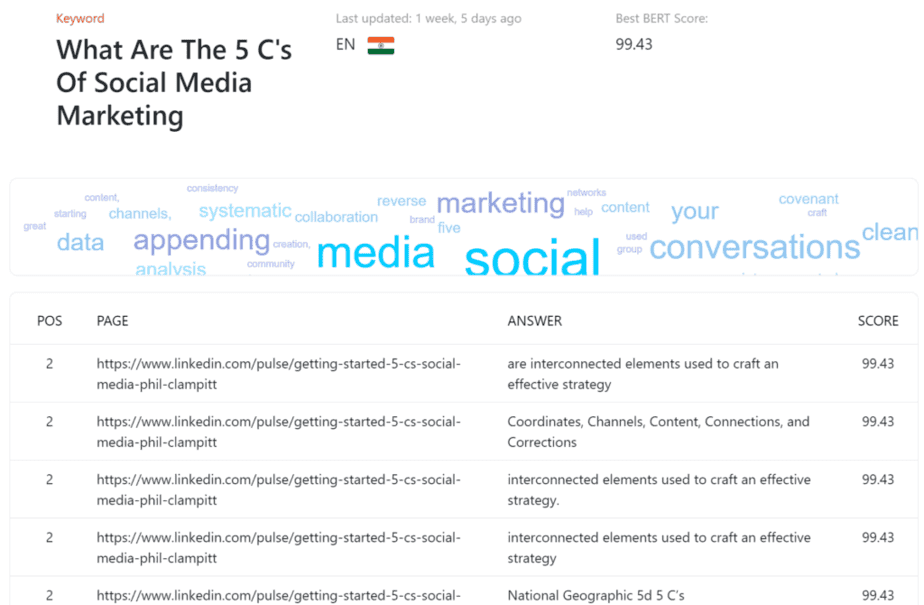 8. Keywords Filtering
RankAtom offers the following Filters to ease your keyword research process.
Topic: It displays the subtopics associated with your seed keyword.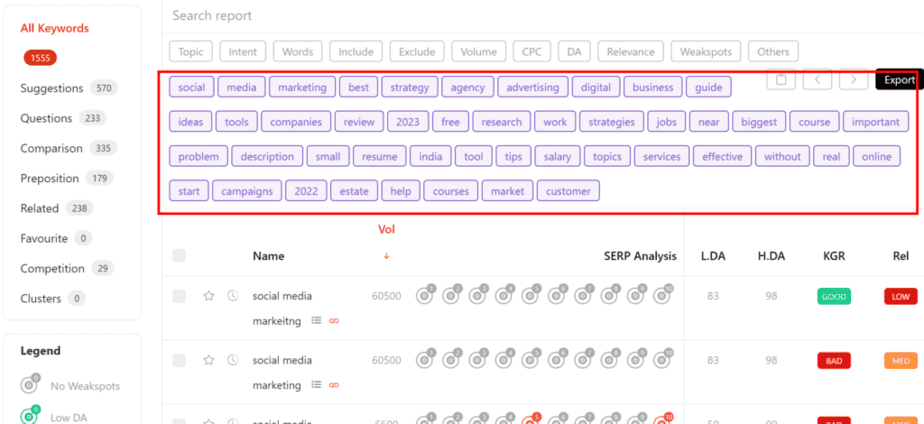 2. Intent: Intent-based filtering helps to identify the specific needs and desires of the user.
Search intents are four types:
Informational
Navigational
Commercial
Transactional
3. Words: You can filter the keywords using the specified word count from minimum to maximum.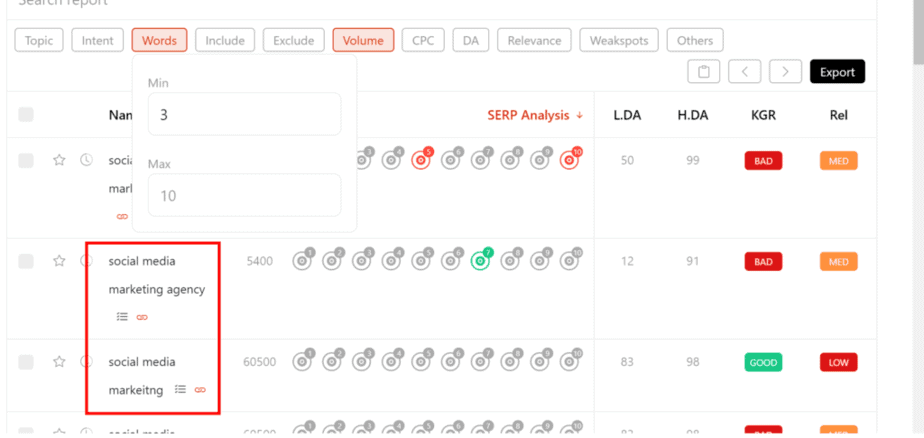 4. Include: It is easy to find keywords that include a term.
5. Exclude: It is useful for identifying keywords that shouldn't contain a term.
6. Volume: This filter can be used to find keywords with the desired search volume.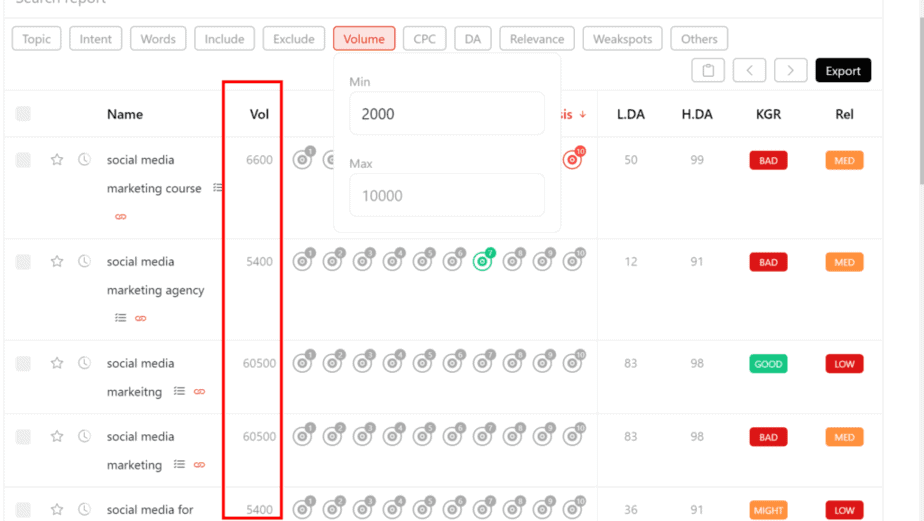 7. CPC(Cost per click): By simply entering the lowest and maximum CPC, you can locate low-cost keywords for running advertisements to save money while focusing on high-conversion.
8. DA(Domain Authority): Using this filter minimum and maximum feature, you can find keywords that are ranking for websites with lesser DA than your website. It helps you get easily ranked in Google SERP.
9. Relevance: It is for filtering low, medium, and high relevant keywords.
10. Weakspots: It easily analyses weak spots for keywords to rank in Google SERP.

11. Others: It has a few metrics to make your keyword research easy.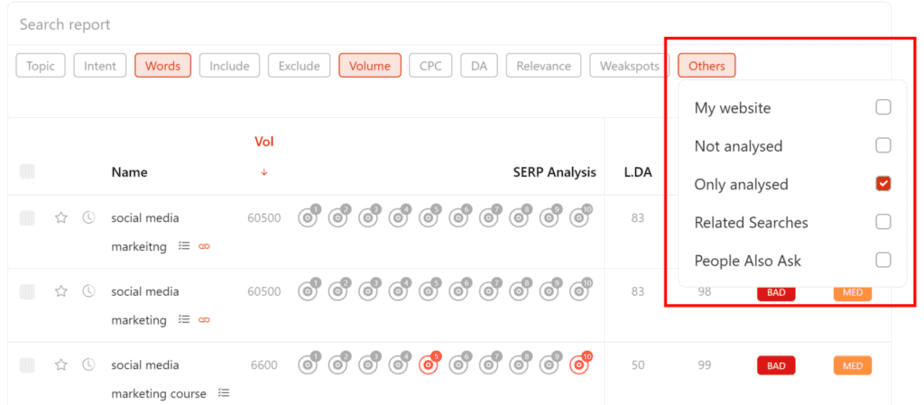 12. The Keyword Golden Ratio (KGR) serves as a valuable reference when making decisions about the keywords to target. When the KGR is higher, it increases the likelihood of achieving a quicker Google ranking.
Tip 3: In case you find a lot of irrelevant keywords, make use of the many filters that RankAtom offers to discover the ones that are relevant.
Pros:👍
Cons:👎
About the Company💼
My experience with RankAtom has shown me that the company's dedication to providing comprehensive SEO solutions is unmatched.
Founded by Krishna Anubhav, an experienced professional in the SaaS industry, RankAtom provides valuable insights and recommendations for optimizing website content.
With features like keyword research, competitor analysis, and weak spot detection, RankAtom goes above and beyond in helping businesses unlock their full SEO potential.
The company's commitment to delivering accurate and real-time updates through its rank-tracking feature is commendable.
Final Verdict:🤘
If you want to tackle the world of SEO confidently and improve your website to its full potential go for RankAtom. As I conducted my RankAtom review, I found three key aspects that stood out:
1. Finding Weak Spots easily
2. SEO Content Strategy
3. BERT Analysis
Because RankAtom is an all-in-one SEO tool, you can complete all your tasks on a single platform and save time.
RankAtom has a better tomorrow and the team will be introducing many new features like AI for SEO-optimized Content, improved BERT analysis, and SEO Library with real-time case studies to its platform in the coming days.
For a limited time, they are also giving a lifetime deal for just 39$. You can pay once and use RankAtom for the rest of your life.
So don't miss it and Get this must-have tool before the offer expires.
FAQ's:
What are RankAtom Pricing structures?
RankAtom provides several pricing plans to meet a variety of purposes. However, all customers have access to the same features.
Plan 1: For only $39, you'll receive:
3,000 keyword credits per month
30 rank trackers per month
3 competitor analyses per month
Plan 2:Upgrade to the $99 package and get:
9,000 keyword credits per month
90 rank trackers per month
9 competitor analyses per month
Plan 3: For just $169, enjoy the benefits of:
18,000 keyword credits per month
150 rank trackers per month
15 competitor analyses per month
Plan 4: Our $279 package includes:
30,000 keyword credits per month
250 rank trackers per month
25 competitor analyses per month
Plan 5: Go all-in with our $499 package and receive:
55,000 keyword credits per month
550 rank trackers per month
55 competitor analyses per month
Who should buy Rankatom?
SEO companies, content strategists, bloggers, advertisers, brand managers, and e-commerce business owners will all benefit from RankAtom.
What sets RankAtom apart from other SEO tools?
RankAtom has an efficient approach to SEO with features like clustering, weak spot identification and real-time search insights.
Is RankAtom useful for global or local search?
It includes both global and local search insights, making it adaptable to various business requirements.
Is Rankatom Suitable for Beginners in SEO?
RankAtom is definitely suitable for beginners and professionals for valuable insights on SEO strategies. With its user-friendly interface and comprehensive features, RankAtom makes SEO accessible and effective for everyone.
 Can Rankatom Track Keyword Rankings for Multiple Search Engines and Languages?
Yes, RankAtom can track keyword rankings for multiple search engines and give keywords in many languages. If you use local SEO, you can also choose a certain language to target.
How safe is my information with Rank-Atom?
It prioritizes user data protection. For more information about their data protection and privacy practices, please visit their official website.
Can I use RankAtom to generate reports for clients?
Yes, Rank-Atom users can generate extensive SEO reports to provide to clients or utilize for internal reviews.
Does Rankatom Provide Any Support for Use?
Yes, You can contact their support team via email or by social media profiles on Linkedin, Facebook, or YouTube.They also conduct webinars and workshops to help you stay updated in the field of SEO.
Is RankAtom an alternative to LowFruits?
Yes, It's an alternative to LowFruits with additional features like  Rank Tracker, BERT Analysis, Keyword Golden Ratio, and Competitor Analysis.
Does RankAtom do SEO Audit?
No,RankAtom does not do SEO Audit.It focuses on Keyword Research only.
How are Credits used within RankAtom?
You will be getting credits based on your Deal.
• Keyword ideas= 1 Credit
• 1 keyword analyzed = 1 credit.
• 1 keyword golden ratio = 1 credit.
• 1 rank tracking = 1 credit.
• BERT analysis = 10 credits.
All other features are included.