I have tried Dubverse on my videos that are made in Telugu Language and got good output.
Before we go into the dubverse review, I Just wanted to give you a headsup, their lifetime deal is ending, click here for discounted price.
Do you want to connect with global audiences at the click of a button with your videos that are made in your local language?
Dubverse has AI voice modules from all over the world with different accents, so anyone can get exactly what they want.
As a content creator and video editor, I always seek innovative tools to enhance my work.
So, I decided to try Dubverse and was impressed by the way it transferred my YouTube journey.
So here I am to share my experience with you in this Dubverse review.
Table of Contents
Dubverse Review:
If you are in a rush and need a short review of Dubverse, here is a glimpse.
DUBVERSE REVIEW
Dubverse.ai is an AI-powered

text-to-speech tool

designed to provide subtitles and realistic human-sounding voiceovers for video content. It features more than 150 speakers, from a wide range of genders, ages, and speaking styles.

Advanced AI Dubbing Technology, Wide Language and Speaker Options, Easy Script Editing and Translation, User-Friendly Interface, and Collaboration Studio.

Two major cons, first, Need to Cross check the subtitle output as it might get confused with few dialects. Second, While dubbing the video, Lipsink time is not very accurate.

30+ languages & 150+ Speakers,200 Monthly Credits, No WaterMark included

It saved me 100 human hours of writing subtitles. So, I can assure you it is a trusted choice for businesses and creators looking to save time and also enhance their video engagement and dubbing experience.
What is Dubverse?
Dubverse is an AI start-up that automates the dubbing process for video content. With advanced AI technology, Dubverse has developed a revolutionary video dubbing tool that utilizes machine learning algorithms to generate high-quality dubbed videos.
Using this solution, users can utilize various languages and voices, synchronize lip movements, and add subtitles to their videos.
Dubverse is an alternative to Speakatoo, Papercup, Dalienai, and Wordly.
In This Dubverse Review, we will review the Dubferse.ai lifetime deal, features, Pros and cons, and the use cases of Dubverse.ai.
Use Cases:
Use case 1:
If you are in the FinTech industry, you can connect to your customers & employees by making videos in their local languages using Dubverse. This helps customers understand your products better, so everyone feels included. It not only reduces support requests from customers later but also saves time and energy.
Use Case 2:
If you are in educational or training platforms, Dubverse helps you make training videos in employee's languages and also offers AI tools for subtitles and voices. Providing training in an employee's native language leads to better understanding and job performance, improving workflows.
Use Case 3:
Youtubers can dub news videos in different languages with Dubverse which helps them reach more people and make viewers from various backgrounds feel included, This will attract more viewers and advertisers for your channel.
Use Case 4:
If you are an agency, Dubverse allows businesses to create localized marketing videos, to effectively communicate their marketing messages to diverse audiences around the world.
Live Examples:
As a user, I have found that the features of the platform are both impressive and versatile in its Dubverse Lifetime deal.
1: Dubbing
Dubverse is a groundbreaking video platform that revolutionizes video engagement by allowing dubbing and translating videos into over 60 languages with astonishingly human AI-generated voices.
I could quickly create highly realistic videos ready for publication within seconds, like the one here.
BEFORE
AFTER (Lip sink is missing and Voices are limited)
2: Subtitles
You can easily add Subtitles to all your videos with the Power of AI.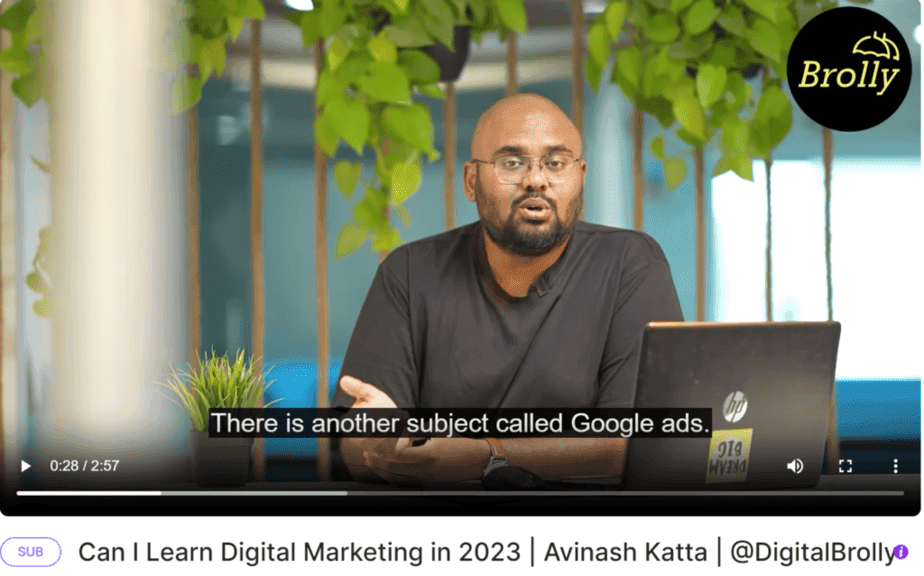 3: Script editor
It allows users to easily edit and customize their scripts in real-time. This feature is incredibly convenient and saves a lot of time and effort.
Pros:
Dubverse.ai's automated process is a faster, more efficient, and economical alternative to traditional dubbing methods.
Dubverse.ai employs advanced AI and ML technology to produce top-notch dubbing that resembles human speech, delivering a natural and professional sound.
With, 60+ Indian and global languages, and 450+ speakers across gender, age & style, it enables you to connect with a global audience by providing the exact voice you prefer and broadening your market reach.
It features a script editor that you can use while translating in real-time, making it possible to edit the script without the need to switch screens.
Dubverse's AI dubbing offers excellent scalability, enabling agencies to produce voiceovers for extensive content quantities while maintaining high-quality standards.
Dubverse.ai offers a user-friendly interface that enables anyone, regardless of technical skills or expertise, to dub their videos in any language.
It has an advanced studio that provides customization features and the capability to collaborate with teams, thereby accelerating the production process.
Cons
Children's voices are very limited.
Conveying the emotions for certain types of content like horror, comedy, and complex dramatic scenes, can be difficult to achieve.
Try it for yourself, You have a 60 day refund period.
Dubverse Reviews:
Below are few Dubverse Reviews from people who used it.
If you want to check out what others are saying See here.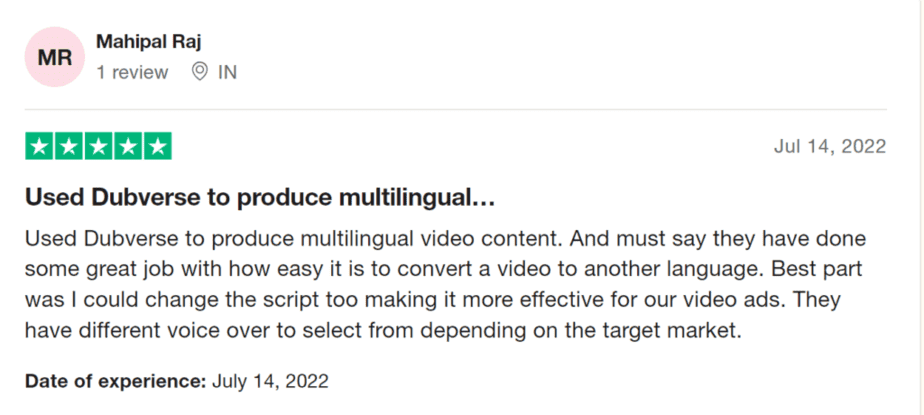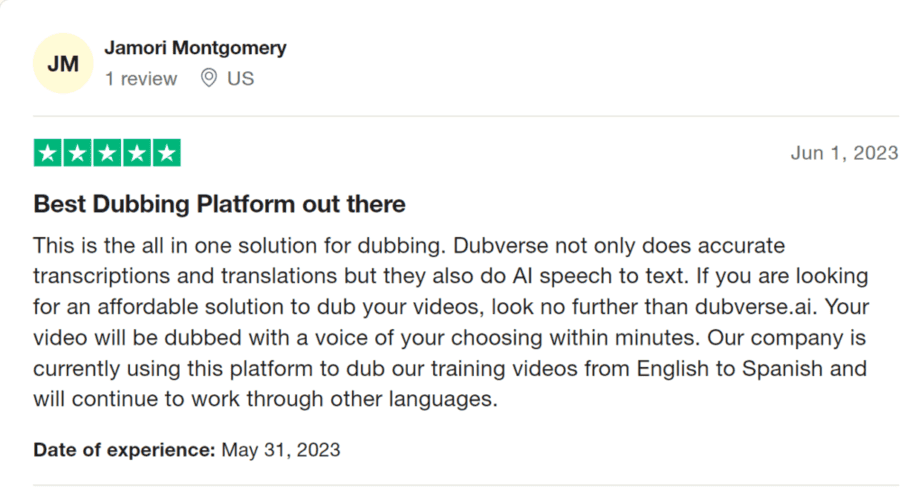 Who Should Buy?
Content Creators
Video Editors
Digital Marketing Agencies
YouTubers
FINAL VERDICT:
If you are a Video marketer or Youtuber, You can thank me later.
Go for it before the lifetime deal ends.