---
Summary: 📋
If you are in a hurry and need a quick ContentBot review, here are the key points.
KEY POINTS
ContentBot.ai is one of the best competing AI Content generation tools with unique features to generate original content for blogs, ad copy, and more.

First WordPress Plugin for AI content generation, Impressive Roadmap, Good Support.

Longform Content needs some improvements.

The starter plan is just $49 and you can also get unlimited credits at $147.

Unlimited Option is Available

10% discount if you are an AppSumo plus member or BriefcaseHQ member.

It's a good product. Go for it.
Now let's get started with the In-depth ContentBot review.
What is ContentBot? 👍
ContentBot is a powerful AI-generated content tool that helps the user to generate blog topics, ad copy, marketing copy and even full blog posts based on the parameters given by the user.
Note : ContentBot comes with 25+ highly tuned tools to generate fresh blog posts and evergreen content In under 30 seconds.
Pros
First WordPress AI content generation plugin.
Integrates with Gutenberg.
First AI tool to generate long-form content (150 to 2000 words).
Automated emails with blog topic ideas and marketing ideas daily.
Create amazing human-like text.
UI is clean & easy to navigate.
World-class support.
Cons
Limit on generating the number of full blog posts
Sometimes there is a delay in generating AI Content as they are using TinyseedAI which is a bit slow.
Need to work more on the design of their web app
Reviews: 📰
Check out what others are saying about ContentBot. Below are screenshots of 6 ContentBot reviews from people who got to use it.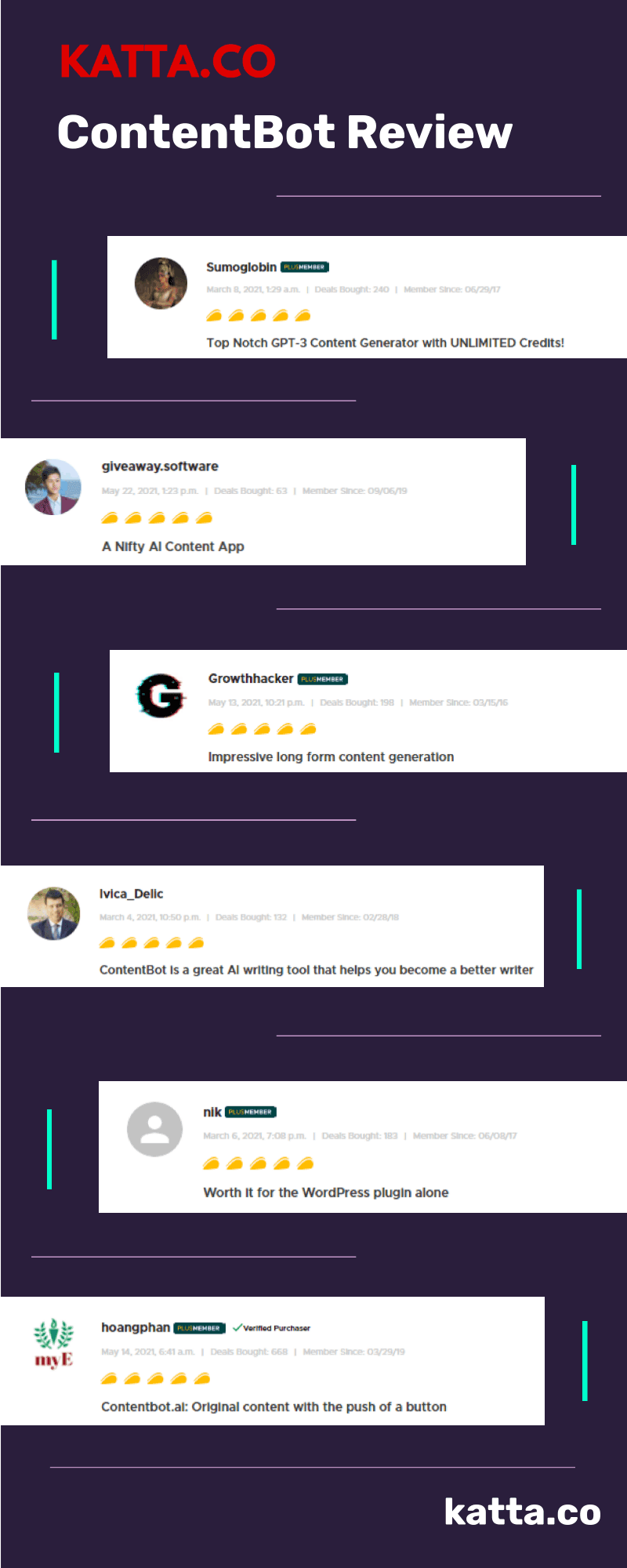 Alternative to: 🤠
Here is a list of tools that ContentBot.ai is an alternative to.
Copy.ai
Conversion.ai
AI Article Writer
Copysmith
Shortly.ai
Jarvis
Nichesss
GoCopy
SmartWriter
AutoWriter
ClosersCopy
NeuralText
Snazzy AI
WriteSonic
About the Company: 💼
| Assets | Resources |
| --- | --- |
| Website | https://contentbot.ai/ |
| Lifetime Deal Link (Latest) | https://link.katta.co/contentbot |
| Founded in | 2021 |
| Domain Registered till | 2021-01-19 |
| Founders | Nicholas Duncan |
| Estimated Number of Employees | 8 Employees |
| Social Media Profiles | Nicholas Duncan |
| Support | support@contentbot.ai |
| Help Documentation | http://help.contentbot.ai/en/ |
| Developer Documentation | https://contentbot.ai/developer/ |
| Free Trial | Yes |
| Blog | No |
| Facebook Group | Yes |
| Active on Facebook Groups | Yes |
| Referral Program | No |
| Alexa Rank | 45767 (Approximately) |
UI & UX: 🌐
Clean and Easy to Navigate Interface.
User Interface is continuously updated with new features and templates.
New features comes with tooltips to provide basic information on that feature.
UI/UX comes with awesome templates.
Simple to use. No confusion.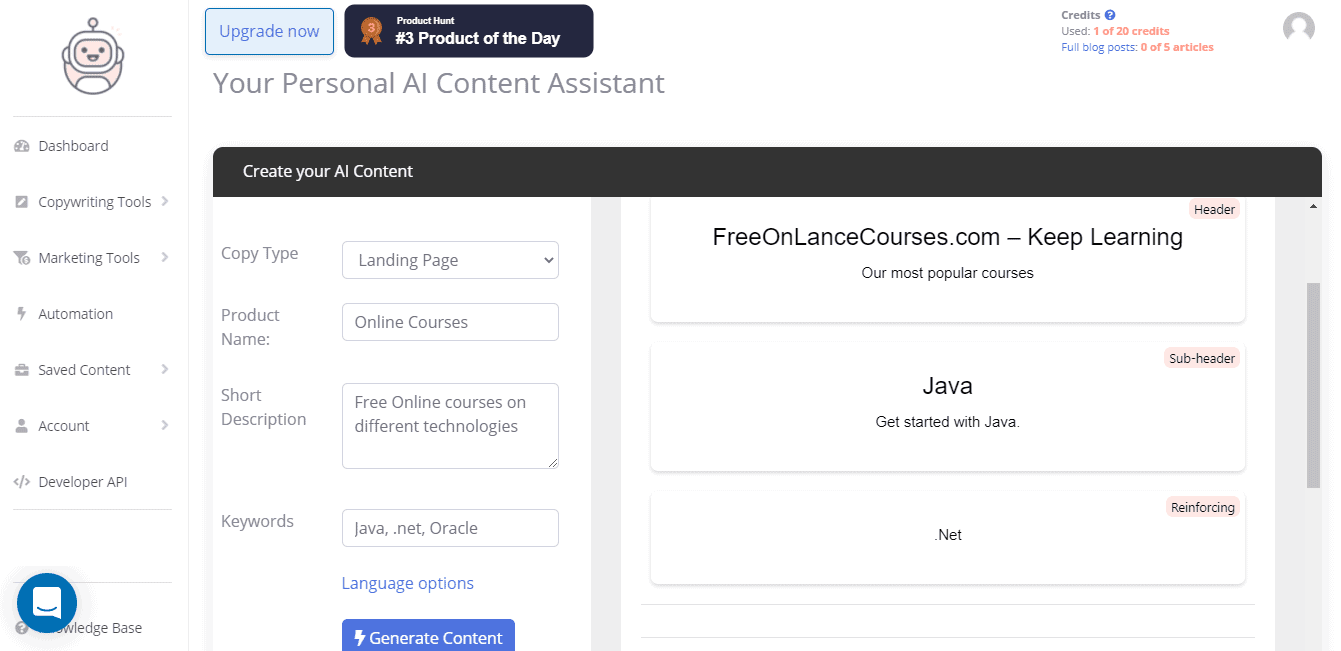 Features: 💪
Landing Pages: This feature generates guideline text for your entire landing page at the click of a button by inserting product name, few keywords and a short description of your product.
Plagiarism/Uniqueness Checker: ContentBot.ai has a built-in plagiarism checker to find the uniqueness of the content by providing Uniqueness score as well as word count.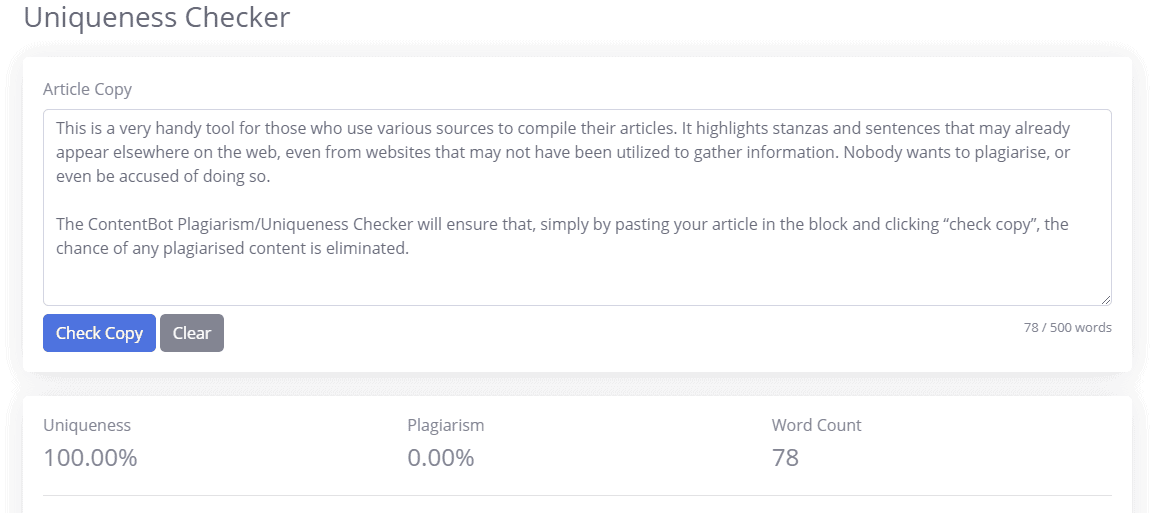 WordPress Plugin: ContentBot stands out with this unique feature when compared with other similar tools. This Plugin helps you to generate AI content directly on the WordPress site.
Longform Content: It is a great initiativeby ContentBot.ai to use TinySeed AI for longform content. This is helpful to generate full blog posts for your website.
Inline Autocomplete: This feature is helpful in completing the sentences for you by pushing the tab or @ button on your keyboard. For this you need to provide basic outline of the blog post along with the number of words for the blog post.
Support: ☎️
These are ContentBot.ai support details in case you want to contact them.
For Support Live chat is available on both the website and main dashboard.
Once you purchase ContentBot, You will Also get access to their amazing facebook group.
https://www.facebook.com/groups/contentbot/
Nicholas Duncan (Nick) is an amazing guy as he responds to every comment posted by the user and always takes community feedbacks into consideration for improvising the tool.
Resources for Learning :📖
Knowledge Base – http://help.contentbot.ai/en/
ContentBot team elaborates on all the Features available along with the latest Product Updates related to product and AI.
Team also shares some important information on how the AI generates the content and also briefs about the types of credits exist in ContentBot.
ContentBot team has come up with few points on fair usage policy as of 31 March 2021.
Roadmap:🚍
Here is the ContentBot.ai roadmap, if you wish to see what they are working on.
ContentBot is live with 25+ highly tuned tools.
Live Features: Change tone rewriter, Plagiarism checker, Favorite content to save for later and Ai Article Writer.
In Progress: Chrome Extension, Expand Article Editor
Planned: WordPress Plugin – Meta Description Generator, AIDA Framework, Linguix Integration, Twitter
Who Should Buy? 💳
Copywriters
Bloggers
Content Marketers
Founders
Business Owners
SEO Specialists
Digital Marketers
Lifetime Deal Pricing: 🤹‍♀️
For ContentBot LTD Pricing, you have 3 plans in total. Below are the details.
| Features | Single | Double | Multiple |
| --- | --- | --- | --- |
| Price | $49 | $98 | $147 |
| Credits per month | 50 | 150 | Unlimited |
| Full blogpost credits per month | 5 | 10 | Show More |
| Blog Topics + Intros | Yes | Yes | Yes |
| Video Ideas | Yes | Yes | Yes |
| Marketing Ideas | Yes | Yes | Yes |
| Headlines | Yes | Yes | Yes |
| AI Copy | Yes | Yes | Yes |
Monthly Pricing: 💲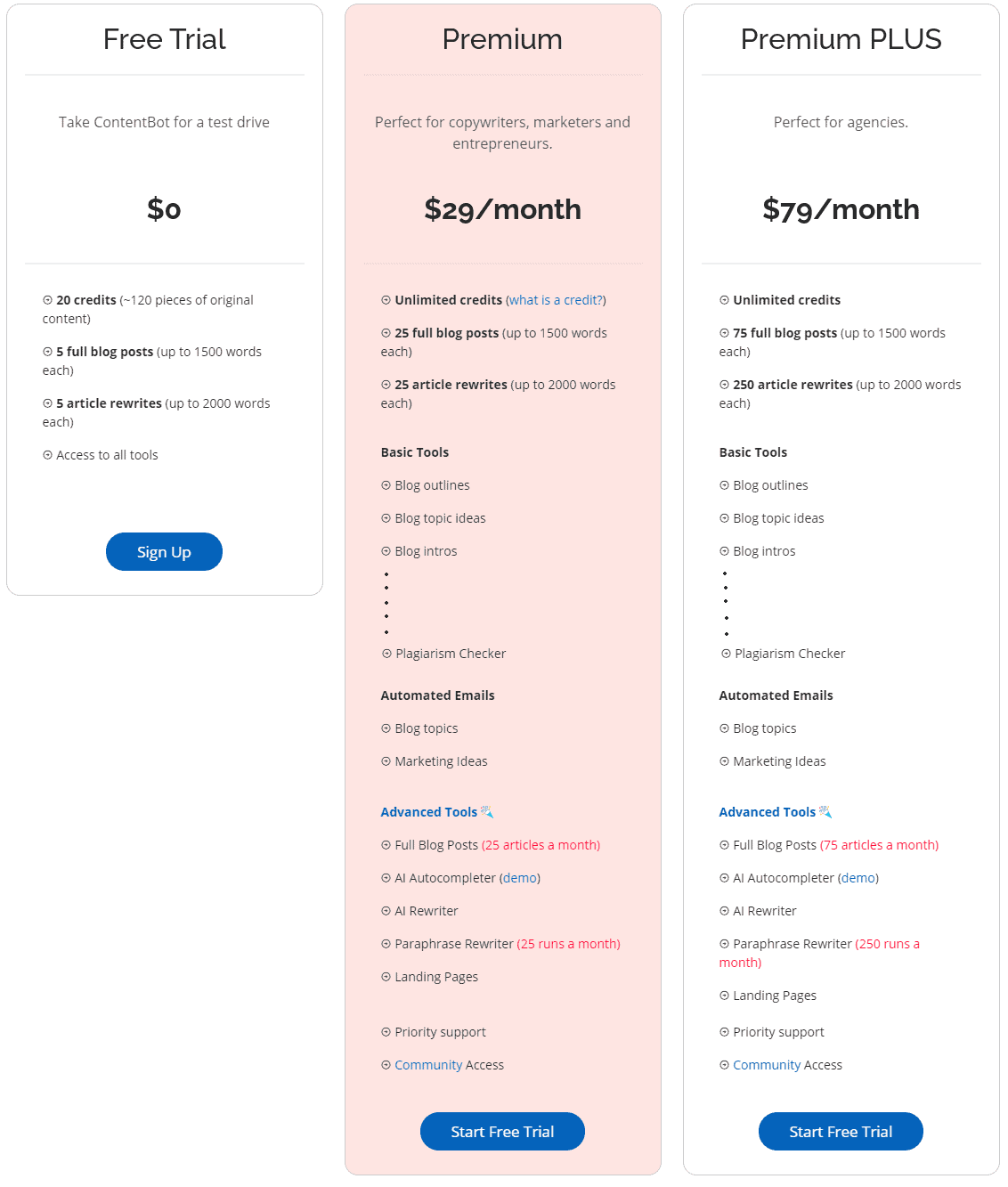 FAQ's: ❓
Which plan to choose ?
It's generally difficult to find an AI tool which gives unlimited credits. So, I would recommend going for the $147 plan and grab unlimited credits.
What is the refund period ?
You will have 60 days to test the product and refund if you don't need it.
Is there any tool coupon code or discount available ?
You can get a 10% percent discount if you are an AppSumo plus member or BriefcaseHQ member. You can get plus membership here: https://swiy.io/appsumo-plus
Is the User Interface good ?
Yes, User Interface is simple and easy to navigate through 25+ tools with the information cards for all the features.
Is the AI content generated by ContentBot unique ?
Yes. 95% of the original content generated by the ContentBot AI is unique and it also provides a Uniqueness score for long-form content.
How is the AI content generated by ContentBot?
They make use of GPT-3 by OpenAI as the main model along with other AI models. GPT-3, or Generative Pre-trained Transformer 3 uses deep learning to produce human-like content snippets.
Who retains the copyright for AI content?
There is no copyright claim by ContentBot for the content generated by the AI.
What languages do ContentBot support?
ContentBot supports all languages that Google Translate supports. ContentBot uses IBM Watson and OpenAI for better & multiple translations simultaneously.
Final Verdict: 🤘
ContentBot Tool comes with amazing and unique features when compared with other AI Tools and it does the job for most of the industry users.
ContentBot Roadmap looks very impressive with the upcoming features and lot of improvements to the existing tools.
It's a good investment & Saves you on monthly bills.
Go for it. Get ContentBot Lifetime Deal: Click Here Now 😀
Help Me 🙏
Hey, providing you this kind of review requires purchasing the software, testing it, and then writing it. There is money, time, and effort going into it.

If at all you found the review helpful and decided to buy the software, consider buying it through my affiliate links above.

This will encourage me to keep reviewing more tools and also help in keeping KATTA.CO website live.

You can also bookmark this page and come back later when you decide to buy it.

Thank you for reading ContentBot review on Katta.co

Yours
Avinash Katta.